BLOG
Do Good and Look Great During Aveda Earth Month 2017


As part of Aveda's commitment to sustainability, Aveda salons raise millions of dollars for environmental organizations around the world every year during Earth Month. For the 10th year in a row, Aveda chose the Alliance as their partner for Aveda Earth Month 2017.
A Decade of Protecting Clean Water
Every year, Aveda chooses clean water organizations around the country to support during Earth Month. For the 10th year in a row, Aveda has chosen the Alliance for Illinois, Wisconsin, and Michigan. So, stylists at Aveda salons in those states dedicate their time and energy during Earth Month to fundraise for the Alliance.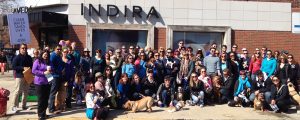 Organizing fundraisers is no small task, and that hard work has paid off. Over the past decade Aveda salons and stylists have raised more than $3.1 million for the Alliance for the Great Lakes. This money has been indispensable in the Alliance's work to protect the Great Lakes.
Protect Water Your Way
The theme of Aveda Earth Month 2017 is "Protect Water Your Way." And they've done just that by creating and hosting fun, creative fundraising events for you to take part in. Golf outings, raffles, fashion shows, 5k walks, and cut-a-thons are just a few ways Aveda salons and stylists raised money for the Alliance.
Funds raised by Aveda salons and stylists come from the generosity of the Great Lakes lovers who attend their events and donate. Throughout April and early May salons will be holding events to protect clean water, and they want you to join them — find an event near you today!