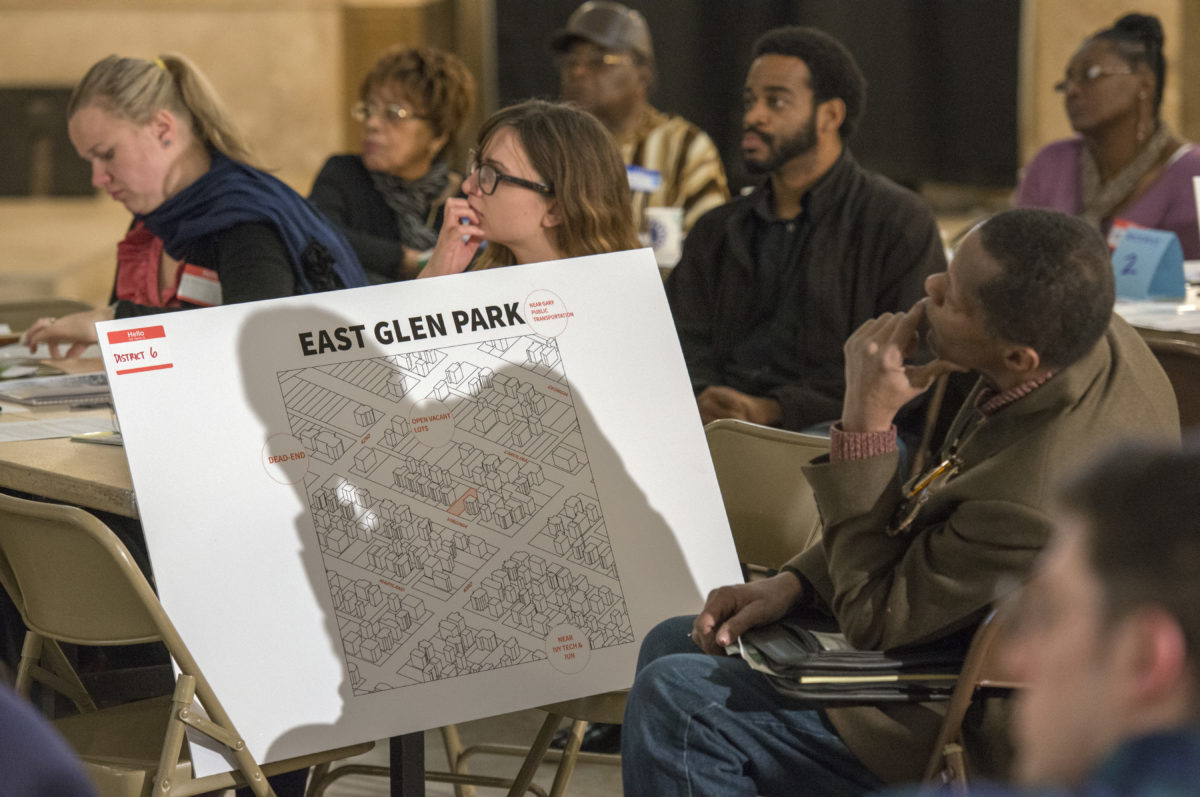 The Great Lakes are vast, and each community has its own relationship to the lakes and the land that surrounds them. Cities around the region face different water challenges. By addressing these challenges from the ground up, communities are making an impact to protect clean water.
For instance, we're partnering with local groups to address water affordability in Cleveland, Ohio; flooding in Detroit, Michigan; vacant properties and green spaces in Gary, Indiana; and runoff pollution in Green Bay, Wisconsin. Strong support for the Great Lakes starts with healthy connections to local Great Lakes waters.
We're proud to support local leadership around the Great Lakes region to advance and lift up community-led models for water protection and management. As we continue to work at the state and federal levels to protect the Great Lakes, we also work with residents to advance a clean water agenda neighborhood by neighborhood, community by community. Here are some highlights from 2018.
Addressing Water Affordability & Demystifying Water Bills in Cleveland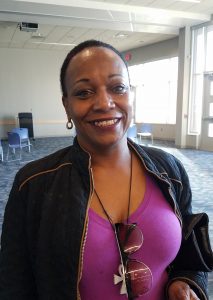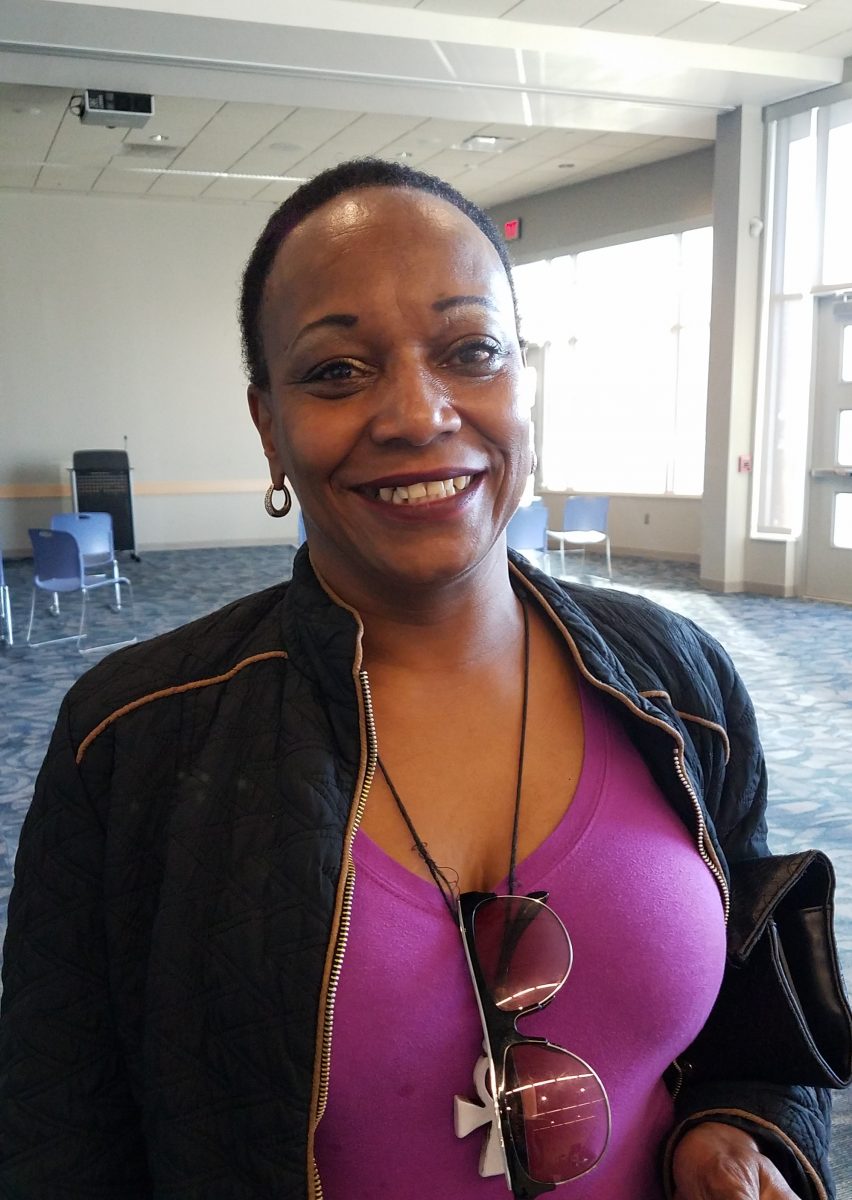 Brenda is a homeowner and landlord. And like many in the greater Cleveland area, she has concerns about sewer backups, an expensive and hazardous problem caused by failing sewer lines. Backups during heavy rains are hard to predict or prevent, even as residents pay climbing water and sewer bills. At a roundtable discussion last year, Brenda got the chance to speak directly with utility providers, ask questions, and get clarity on her water bill.
"Rising water and sewer bills are a constant worry for many Clevelanders," said Alliance for the Great Lakes Policy Director Crystal Davis. "We're working to bring additional transparency to the issue, help residents get answers to their questions, and begin to talk about long-term solutions."
After a series of community conversations around water issues, the Alliance for the Great Lakes organized the water affordability roundtable for residents to get answers from utilities providers and decision makers. The event was attended and supported by the Office of Congresswoman Marcia L. Fudge, the Northeast Ohio Regional Sewer District, Cleveland Water, Northeast Shores Community Development Corporation, and the Collinwood Nottingham Community Development Corporation.
Local community members spoke directly with the Sewer District and Cleveland Water about water affordability. Leaders of community organizations took notes on utility assistance programs that they can share with residents. And agencies connected around opportunities for collaboration. After the roundtable, residents sat down face-to-face with Cleveland Water and Sewer District staff to get individual help navigating their bills.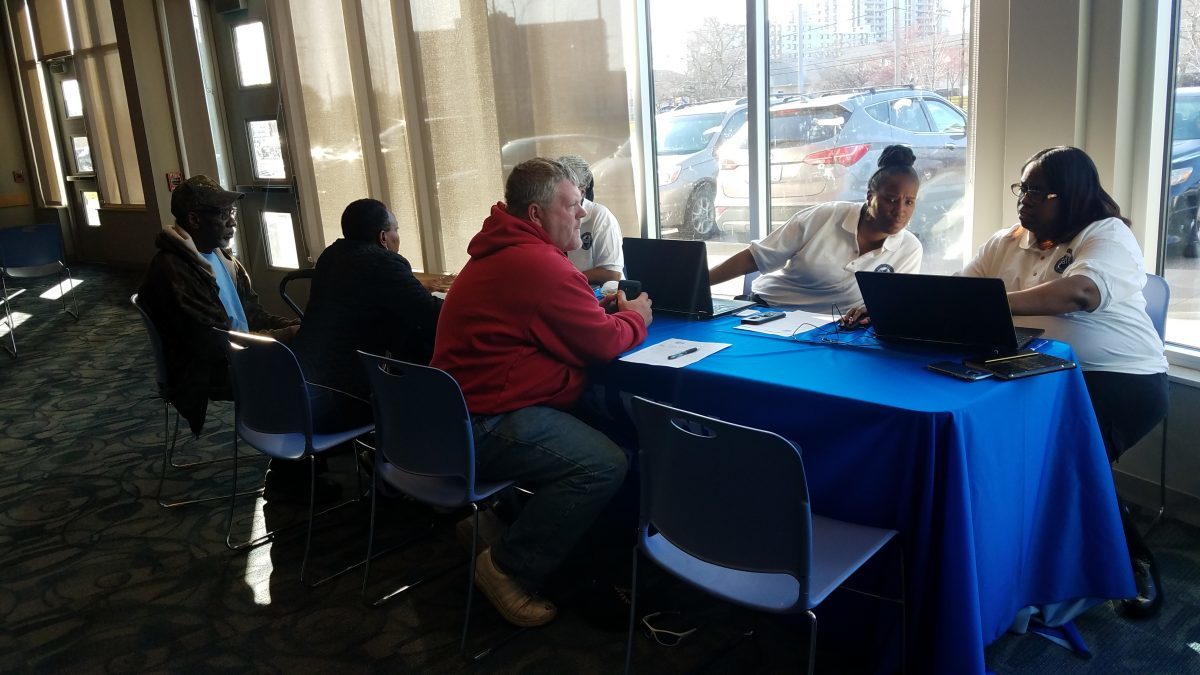 Over the next 20 years, Ohio's drinking water infrastructure will require an investment of $9.68 billion. Wastewater infrastructure needs add up to about $11.16 billion.
While the Alliance supports much-needed upgrades to drinking water and sewer infrastructure, we need equitable solutions to pay for those upgrades. We're continuing to bring together community members, agencies, and elected officials to make progress on local water issues to make sure communities are part of creating those solutions.
Detroiters Come Together to Take on Flooding

Flooding in streets and homes after heavy rain events is a consistent problem for Detroiters, causing safety issues and costing residents millions of dollars in repairs each year. Last year, residents along the Conner Creek Greenway, a recreation trail that runs along Conner Avenue from 8 Mile Road to the Detroit River, got together to push solutions forward.
The Alliance collaborated with residents and local organizations to address Conner Creek's flooding problem in community-driven planning process. They focused on nature-based solutions, called "green infrastructure." Green infrastructure uses plants and soil to mimic how nature deals with water. It absorbs, slows down, and filters rainwater before the water reaches stormwater pipes or waterways. Green infrastructure also offers quality-of-life benefits like neighborhood beautification and improved health outcomes.
Last summer, after months of effort and planning, the team saw its first tangible results. A professional engineering firm unveiled designs for five green infrastructure projects that could start to address flooding and provide quality-of-life benefits to neighborhoods along the greenway.
"We're excited that these project ideas were developed from the neighborhood up, and we're excited that the momentum is building," said Angela Larsen, Alliance for the Great Lakes Community Planner Director.
Partnering with Residents to "Green" Gary from the Ground Up
Gary, Indiana is situated in the heart of the rare dunes on the southern end of Lake Michigan, about 25 miles from downtown Chicago and just west of the Indiana Dunes National Lakeshore. Gary has a rich history and many assets. But it also struggles with flooding, stormwater management, and economic challenges.
The Vacant-to-Vibrant program is one way Gary is addressing both stormwater issues and neighborhood stabilization. And we're proud to partner with the city and its residents in that effort.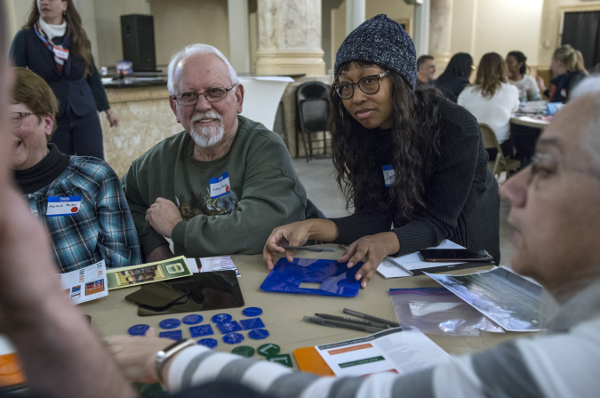 The Alliance has been working with the city and residents to explore how vacant properties might be transformed into vibrant, lot-sized parks that beautify their neighborhoods. Through this process, people gathered around maps of their neighborhoods, considered the potential sites, and decided with their neighbors where parks should go. Residents, city officials, and landscape architects then collaborated to design five sites through a community-led planning model. The city broke ground last fall.
All In for a Clean Green Bay
An area of Lake Michigan's Green Bay is so low in oxygen that it can't support life. The cause? Algae fueled by agricultural runoff pollution. To address this problem, a group of farmers and other local leaders has come together to create a clean water agenda and a plan of action to reduce runoff pollution entering the bay.

"We're not just looking at it from one community's perspective, or even county to county. We're taking a regional approach to the complicated issue of improving water quality," said Troy Streckenbach, Brown County Executive. Brown County is home to the NEW Water treatment plant and a demonstration farm that educates farmers on sustainable practices. Streckenbach is calling on leaders from surrounding counties to join the effort.
For more than a year, the Alliance worked with University of Wisconsin-Green Bay to convene clean water roundtable discussions with farmers, researchers, government officials, business leaders, and others. Participants shared their perspectives on water quality and talked about what they can do to improve it. By the end of the roundtable series, a group of leaders had emerged — people from across sectors who committed to stepping up to advance a clean water agenda.
"The Leadership Roundtable made me a believer," said Keith Marquardt, Water Resources Management Specialist at Wisconsin Department of Natural Resources. Keith works with farmers to promote conservation practices. He was one of many who stepped up to play a leadership role in the effort for a clean Green Bay.