The 2020 Election Season & the Great Lakes
A toolkit for getting involved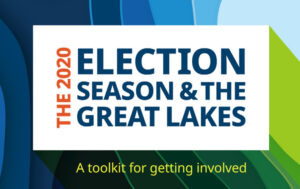 As the 2020 election season ramps up, voters are getting ready to mark their ballots. They're researching candidate platforms, attending events and asking tough questions of candidates, and talking with family, neighbors, and friends about the election. 
The Great Lakes have long enjoyed strong bipartisan support, because people of all backgrounds can see the value of clean water. Right now, we have an opportunity to encourage candidates to stand up for the Great Lakes and hold them accountable once elected. 
Your Voice and Your Vote Matter: Resources to Get Involved
Although the presidential election leads the news, candidates are running for offices at the local, state, and federal levels. Every office on the ballot, from mayors to the President of the United States, will have the opportunity to influence Great Lakes and water issues after the election.
The Alliance for the Great Lakes has developed a toolkit — The 2020 Election Season & the Great Lakes — to help you get involved this election season. 
In the toolkit you will find:
Additionally, we have launched the nonpartisan Great Lakes Voter Information Center, which you can use to:
Check your voter registration status
Learn about candidates on your local ballot
Find your local polling location
Learn about mail-in or absentee voting in your state
The Great Lakes Voter Information Center is bilingual, available in English and Spanish.
The Alliance for the Great Lakes and the Election Season: Our Role
As a 501(c)(3) nonprofit organization, the Alliance for the Great Lakes cannot support or oppose candidates or political parties. However, we can, and do, educate candidates and voters on Great Lakes issues.