Blog
Michigan City Embraces Its Waterfront
Helping Cities Rediscover Their Coasts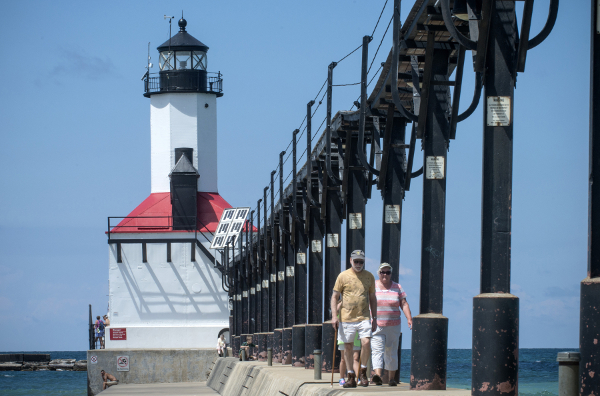 A few years ago, Michigan City, Ind., was at a crossroads: a city with a clear eye to the future hoping to heal a troubled past.
Forward-thinking leaders looked past the shuttered downtown storefronts and beleaguered beaches, straight to the Lake Michigan waterfront — and saw the city's destiny.
Since then, Michigan City has done an about-face, and people like downtown restaurant co-owner Mary Koselke are betting the trend will go even further. "I'm betting everything I own on it," she says. "Everything I have is in this place."
Koselke, who says proximity to the city's now-flourishing Lake Michigan lakefront spurred her decision to open Fiddlehead Restaurant this year, is just the sort of businessperson Mayor Ron Meer has worked to attract in reshaping Michigan City into a waterfront attraction and tourist destination.
Clean water is key to that vision, and the Alliance has been helping the city transform its relationship with water and enable investment in the right places.
It's all part of the Alliance's work to partner with Great Lakes cities that are embracing their waterfronts instead of treating them as afterthoughts — or worse, as trash cans and sewers.
Michigan City's biggest gem — 1.5 miles of sandy Lake Michigan shoreline — was in need of some serious polishing. The beach there had experienced numerous closures because of poor water quality, largely from sewage overflows into the city's other main jewel: Trail Creek.
The mayor vowed to change all that and ignite renewed interest in Michigan City's waterfront and downtown when he took office in 2012.
Improving water quality in Trail Creek, which snakes through the city to empty into Lake Michigan just beyond downtown, was an important step. "If your beaches are closed and you have reports of thousands of gallons of raw sewage going into Trail Creek, it just kills all that other investment," Meer says.
Angela Larsen, Alliance community resilience manager, says bringing cities into the 21st century means shifting how we design streets and buildings, protect open spaces and manage stormwater. "The way cities and urban infrastructure are designed is sometimes based on old models that treat water as a nuisance or waste," she says. "We're partnering with passionate city leaders to implement changes that will drive people, nature and dollars to cities for the next 100 years."
The cost of such shifts can be daunting for communities struggling to meet ever-tighter budgets, however, Getting support from residents, businesses and potential investors is critical. Fortunately, the new way of doing things can save taxpayers money in the long run. Michael Kuss, general manager of Michigan City's sanitary district, says he tells customers: "Worry about the quality of life, and the cost savings will come along."
It's not as hard a sell these days as it once was, he says.
"People recognize it's not all about the almighty dollar, and that there are other ways to get the dollar," Kuss says. "If you've got a nice place to live, people will want to live there. If you've got a nice place to visit, people will want to visit there. That's what drives your economy."
These days, Michigan City is giving residents, business owners and a growing number of tourists plenty to appreciate. Parks along Trail Creek are being restored, bike trails and a river walk are under way, and Indiana's first handicap-accessible kayak ramp opened in September to much fanfare.
Below ground, the city has stopped sewage overflows into Trail Creek and related beach closures by upgrading sanitary and storm sewers to handle excess flow during heavy rains.
To help Michigan City further ease strain on its aging infrastructure, the Alliance is encouraging natural ways to curb stormwater runoff into Trail Creek — most recently securing $60,000 for the city to launch a demonstration project at one of Trail Creek's parks. Beyond stormwater control, the project will address water quality, trails and connections, and bank stabilization.
Mayor Meer says Great Lakes cities should make the most of their waterfronts. But they also have a responsibility to keep their waters healthy. "It's a dual thing: You have to highlight the value of all the things it offers us as humans, but also we have to protect and respect it."
Restaurant owner Koselke is banking on that.
"To maintain this idea of what Michigan City is supposed to be, we need to maintain the beauty of the Great Lakes," she says. "If we don't have a nice beach, people won't come here."