BLOG
Celebrating Our Incredible Volunteers
Alliance hosts end of year celebration for Chicago-land volunteers
In late October, the Alliance had the honor of hosting, recognizing, and celebrating our Chicago-land volunteers for all they do to give back to the Great Lakes. Alliance volunteers cleanup beaches, connect with their community, and protect the lakes — and they've been working hard all year. We thought it was time to celebrate!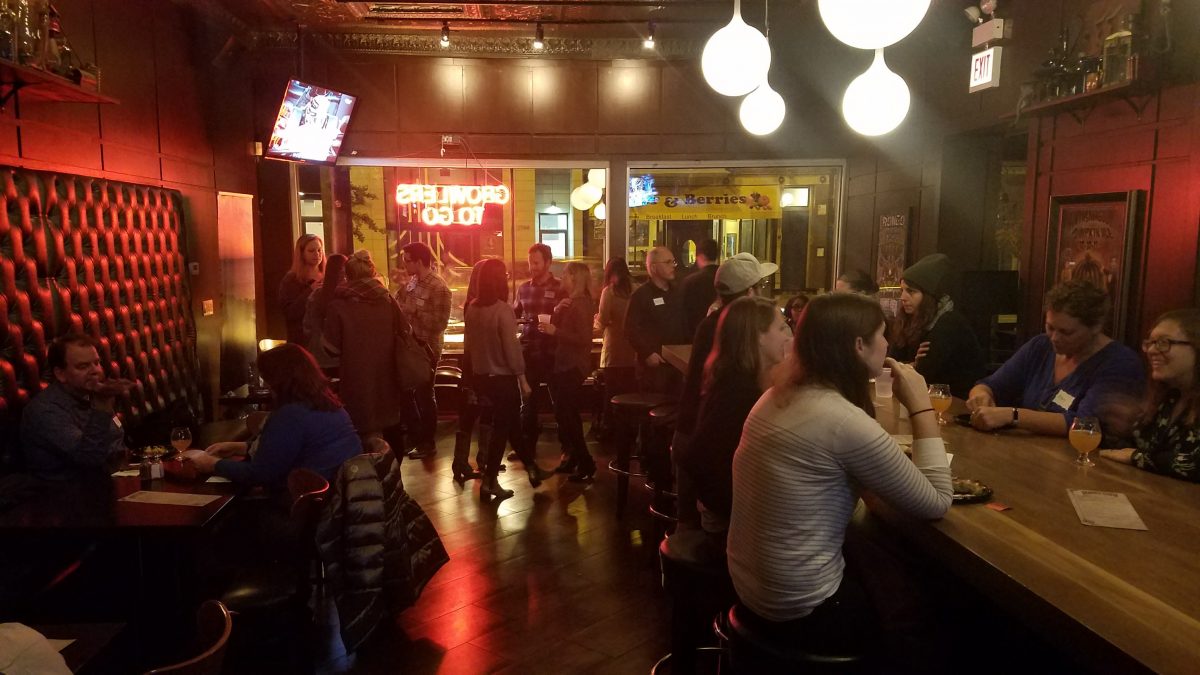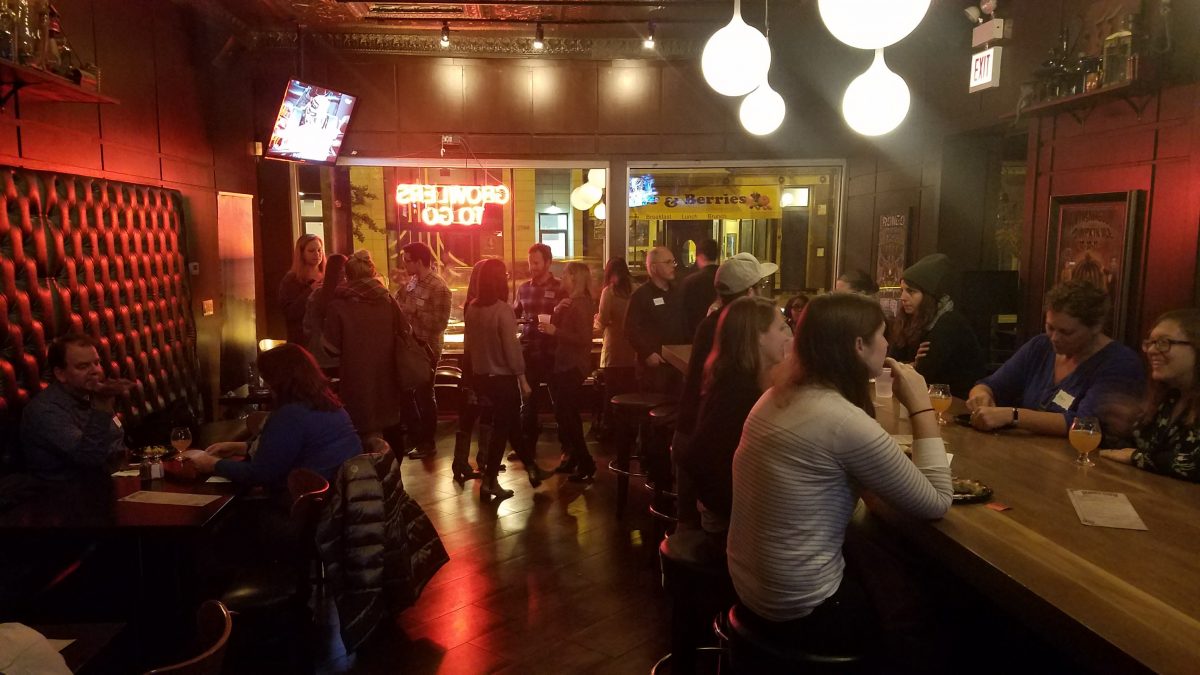 What better way to celebrate volunteers than with pizza and beer? Volunteers, friends, and Alliance staff gathered at Burnt City Pub in Chicago to eat, drink, and be merry about this year's accomplishments. Chicago area volunteers have a lot to celebrate. Here are their accomplishments by the numbers:
4524 volunteers cleaned up beaches in 2017

There were 154 Adopt-a-Beach cleanups

Volunteers picked up 9,442 lbs. of litter

Ambassadors connected more than 1280 people to the Alliance
What Inspires Alliance Volunteers?
Between cheers-ing and pizza, we spoke with a few volunteers to get to know a little bit more about their love for the Great Lakes. Here are a few of their stories.
Chris Black volunteers with the Alliance as an Ambassador. Alliance Ambassadors learn to speak on behalf of the Alliance. After training, they attend events, speak to their community, and discuss issues facing the Great Lakes. There may not be a Lorax for the Great Lakes, but Alliance Ambassadors are the next best thing. Chris said that it's important to talk to the community about the issues facing the Great Lakes: "If you're informed about the issues then you can take action. That's why I like to talk to people about the Great Lakes. When we're informed then we can take action, instead of just saying 'too bad.'" And Chris knows about the issues! He's been working at the US Environmental Protection Agency for years. He knows firsthand the importance of protecting the environment.
Alliance Ambassadors get the chance to attend awesome events in the Chicago area in order to connect with people. Kathleen Singerland has gone to the Pitchfork music festival and a John Mayer concert in her role as an Alliance Ambassador. When asked why she got involved, she said "I've always been a water person. I'm happiest near the water and I majored in Environmental Health Sciences. It feels good to protect something that I care so much about." One of Kathleen's favorite parts of being an Ambassador is meeting people who share her enthusiasm. "People are always excited to talk about the Great Lakes," she said.
John Albergo has been an Adopt-a-Beach volunteer for a year, and has already gone well below the surface as a volunteer. John is a certified SCUBA diver, and uses his unique skills to keep the lakes clean. "You get a close up look at what people dump in Lake Michigan, and it isn't pretty," he said. He even provided a few examples of some of the bizarre items he and his dive team have found: "a microwave, a mini-fridge, fishing gear, a gun, a bicycle, and even a length of chain-link fence." Yikes! Thanks for going above and beyond, John. Or should we say "below and beyond?"
Dean Nolan is a double agent, participating as a volunteer in both the Alliance Ambassador and Adopt-a-Beach volunteer programs. Like John, he is a SCUBA diver. He is a member of the Illinois Council of Skin and SCUBA divers, and cleans up beaches above and below the surface. "I do it all for clean water. I believe in clean water," he said. "For health, for recreation, and just for the beauty of it."  As an Ambassador, Dean has attended events all over the Northside of Chicago and spoken to people about the importance of keeping the Great Lakes healthy. "I like meeting new people and talking about the work. Sharing my passion for the Great Lakes and finding out where their passion is." Thanks for being passionate about the Great Lakes, Dean!
Work to Protect the Great Lakes Isn't Over
An environmentalist's job is never done — and neither is that of an environmental organization like the Alliance. Our work couldn't be done without the work of our stellar volunteers. We thank them for their tireless hard work, enthusiasm, and commitment to the lakes. They are what make the Great Lakes great.
In 2017 alone, almost 13,000 people volunteered to protect the Great Lakes. That's a lot of Great Lakes love — and you can get in on it!  There are lots of ways to get involved in protecting the Great Lakes, from Adopt-a-Beach to Alliance Ambassadors to holding a lemonade stand and donating the profits (it's been done!) Or, just get in touch with us and we'll help you find the perfect way to give back to the lakes.