Long-time Adopt-a-Beach team leader Stephanie Kreuger may have been absent from the cleanup she coordinated June 9th, but she was far from absent from the cause. While her new organization — the Buffalo NY Ocean Coalition — cleaned up Woodlawn State Park Beach, Kreuger was in Washington, D.C. to have a presence in the fight to protect the world's oceans.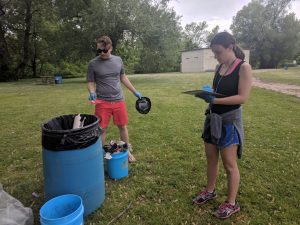 Maximizing her influence, Krueger attended the March for the Ocean, an event with more than 150 partners in Washington, D.C., and with many sister marches in other countries. According to the event's website, the March for the Ocean is about "the survival of our blue planet. But it's also about the fact that it's not too late to turn the tide – restore and protect what we love…The ocean is rising and so are we."
Back in Buffalo, 13 members and friends of her new chapter of the Inland Ocean Coalition tackled the Woodlawn Beach cleanup. Demonstrating the connectivity of our waterways via Adopt-a-Beach seemed only natural for the group. Each chapter addresses issues unique to its locale and leads programs to help relay the land-to-sea concept.
The event was held the weekend after World Oceans Day on Friday, June 8th. "Although June has been declared World Oceans Month, so we should celebrate all month," Krueger quipped.
Even as sea levels rise, the Great Lakes lower in response to climate change. Two independent ecosystems, they are nonetheless united in human impact. For Krueger, it's important to pair advocacy for our oceans with mindfulness of our freshwater.
"The coalition focuses on how we affect our oceans even though we don't live on a coast, and now we can show how the two are connected and how plastic from Lake Erie can end up in the ocean," she said.
Krueger continues to advance opportunities for the Coalition to partner with the Alliance for the Great Lakes and Adopt-a-Beach, to seize the opportunity to network and increase volunteer engagement by advertising via multiple platforms. "And it's fun just joining forces," she said.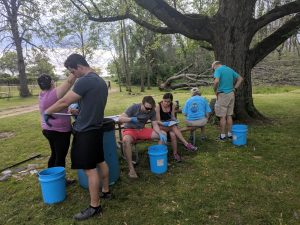 With cleanups dating back to 2011, Krueger is a tireless supporter of the Adopt-a-Beach program. She says she admires the Alliance's efforts to collect litter data. "I like being a team leader with the Alliance because…I enjoy trying to raise awareness about the amount of plastic pollution in our Great Lakes and waterways."
Krueger's crew also ventured out for an Earth Day cleanup earlier this year. Between the two events, they picked up about 270 pounds of trash, 2,774 pieces of which are plastic items.