It was a moment for celebration. After months of effort, residents and community organizations along Detroit's Conner Creek Greenway were about to see their first tangible results. A professional engineering firm was about to unveil designs for five green infrastructure projects that could start to address flooding and provide quality-of-life benefits to neighborhoods along the greenway.
Flooding Is a Problem in Detroit
Flooding in streets and homes after heavy rain events is a consistent problem for Detroiters, causing safety issues and costing residents millions of dollars in repairs each year. Residents along the Conner Creek Greenway, a recreation trail that runs along Conner Avenue from 8 Mile Road to the Detroit River, frequently experience flooding during heavy rain events.
Over the past year, the Alliance for the Great Lakes teamed up with residents living in the area and Detroit Greenways Coalition, the Great Lakes Environmental Law Center, Environmental Consulting & Technology, Inc., and the University of Michigan School for Environment and Sustainability to explore solutions.
Green Infrastructure Can Reduce Flooding and Improve Neighborhoods
The groups and area residents focused on using nature-based solutions — often referred to as "green infrastructure" — as one method to begin to address neighborhood flooding problems. In addition to helping to alleviate flooding, green infrastructure can provide quality-of-life benefits like neighborhood beautification, improved public health, and the creation of parks and green spaces. Green infrastructure uses plants and soil to mimic how nature deals with water. It absorbs, slows down, and filters rainwater before the water reaches stormwater pipes or waterways.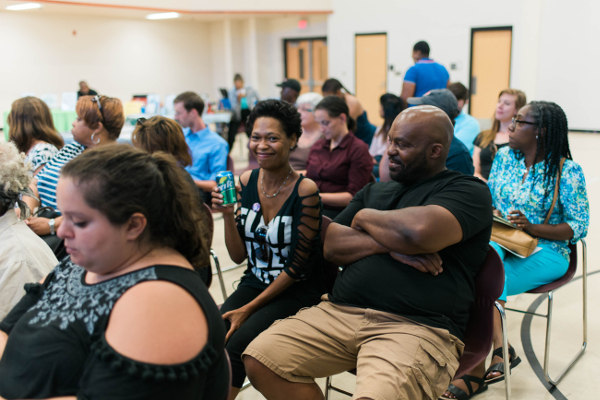 Residents Explore Solutions
Beginning last September, the groups started gathering community input through surveys and community meetings. More than 45 area residents participated in meetings over the winter and spring, working with technical experts to identify sites along the greenway for green infrastructure projects and prioritizing benefits they want the projects to deliver.
Five possible sites along the greenway were selected to receive professional engineering designs: Conner Playfield, Lipke Park/SAY Detroit Play, Southeastern High School, St. John Medical Center-Outer Drive Campus, and a vacant lot owned by the Detroit Land Bank at Conner & Clairpointe.
Residents also worked with a 3-D green infrastructure computer modeling program developed by the University of Michigan School for Environment and Sustainability. They used the model to create their own designs for additional sites, and the university researchers used resident feedback to improve the modeling program.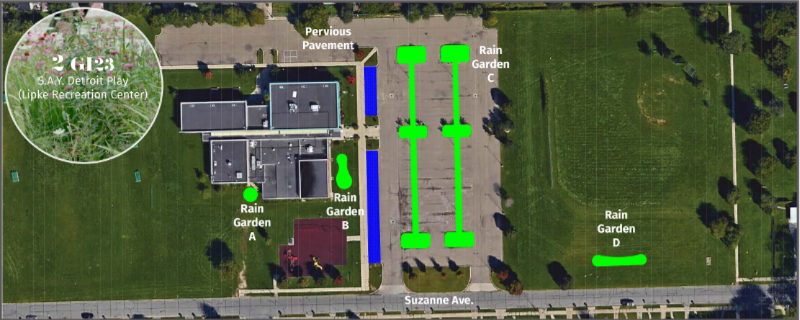 5 Green Infrastructure Projects Are Designed
In July, the groups held a celebration to unveil the professional designs. Residents finally saw the results of their efforts: proposals for five projects along flood-prone areas of the greenway. The designs include a range of green infrastructure practices — such as rain gardens, bioretention ponds, trees, and permeable pavement — that could increase stormwater capture capacity and add desired amenities and aesthetic improvements at each site.
Residents viewed the designs, asked questions, and created their own designs at a 3-D modeling station. They learned how much stormwater each project could capture, the quality-of-life benefits each could provide — and how much each would cost.
"We're excited that these project ideas were developed from the neighborhood up, and we're excited that the momentum is building," says Alliance for the Great Lakes Community Sustainability Planner Khalil Ligon. "Detroit has an incredible opportunity to become a leader in using green infrastructure in the Great Lakes region. Reducing stormwater problems helps our communities, the Detroit River, Lake Erie, and all the waterways flowing into the lakes."
What's Next?
Now the next phase of the work begins. Community groups are seeking funding to implement the five projects and monitor results. And the Alliance for the Great Lakes will be advocating for city-wide policies to help install more green infrastructure throughout Detroit. Improved quality of life and reduced flooding at sites throughout the city — that will be another outcome worth celebrating!
This project was funded in part by the Fred A. and Barbara M. Erb Family Foundation.