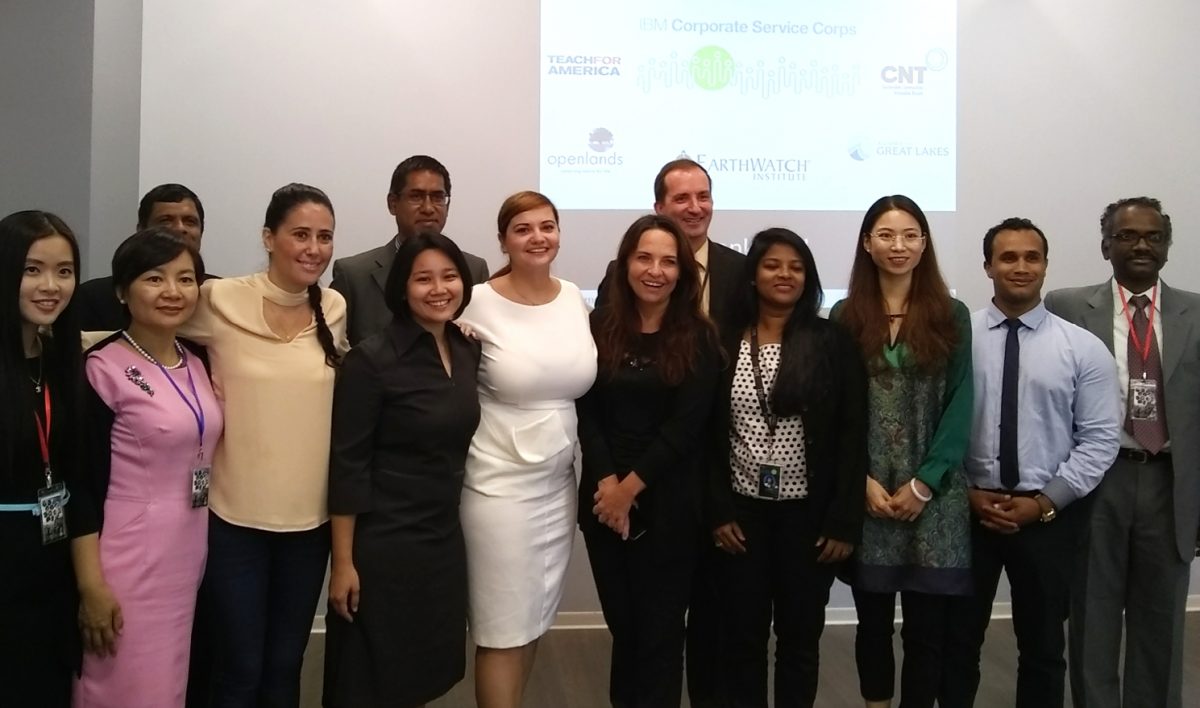 IBM Corporate Service Corps "USA1" members comprise four project teams embedded in nonprofits around Chicago this summer.
Last month, a team of four women from around the world joined the Alliance for the Great Lakes to contribute their expertise to a special project. Their mission? To develop innovative solutions for maintaining green infrastructure — solutions that create local jobs, source locally, and protect the Great Lakes by better managing stormwater.
"It was an 'aha' moment to realize that there are challenges here, even in a developed market like the U.S. and a progressive city like Chicago," said Kim Cham Siang Fen, of IBM Malaysia.
Kim, Gomi Rajan, Kelem Jordao, and Kat Jucaban are IBM employees from India, Brazil, Malaysia, and the Philippines, respectively. Together they made up one of four IBM Corporate Service Corps teams in Chicago this summer. Theirs was the first-ever U.S.-based cohort, which they've affectionately named USA1. The Corps has traditionally sent members to support nonprofits in developing countries. USA1 represents the beginning of the Corps' work in developed countries, and Great Lakes protection was front and center.
Partners From Around the World Protect the Great Lakes
A unique partnership brought this team together. The Alliance connected with IBM Corporate Service Corps through Earthwatch, an international nonprofit that brings people together from all walks of life to help solve pressing environmental problems.
"We protect the environment by connecting people and building networks through education, science, and a range of projects that help Chicago become a resilient city," said Gitte Venicx, Director of Strategic Partnerships at Earthwatch. She worked with IBM to bring the team to Chicago to lend their expertise by developing green infrastructure solutions.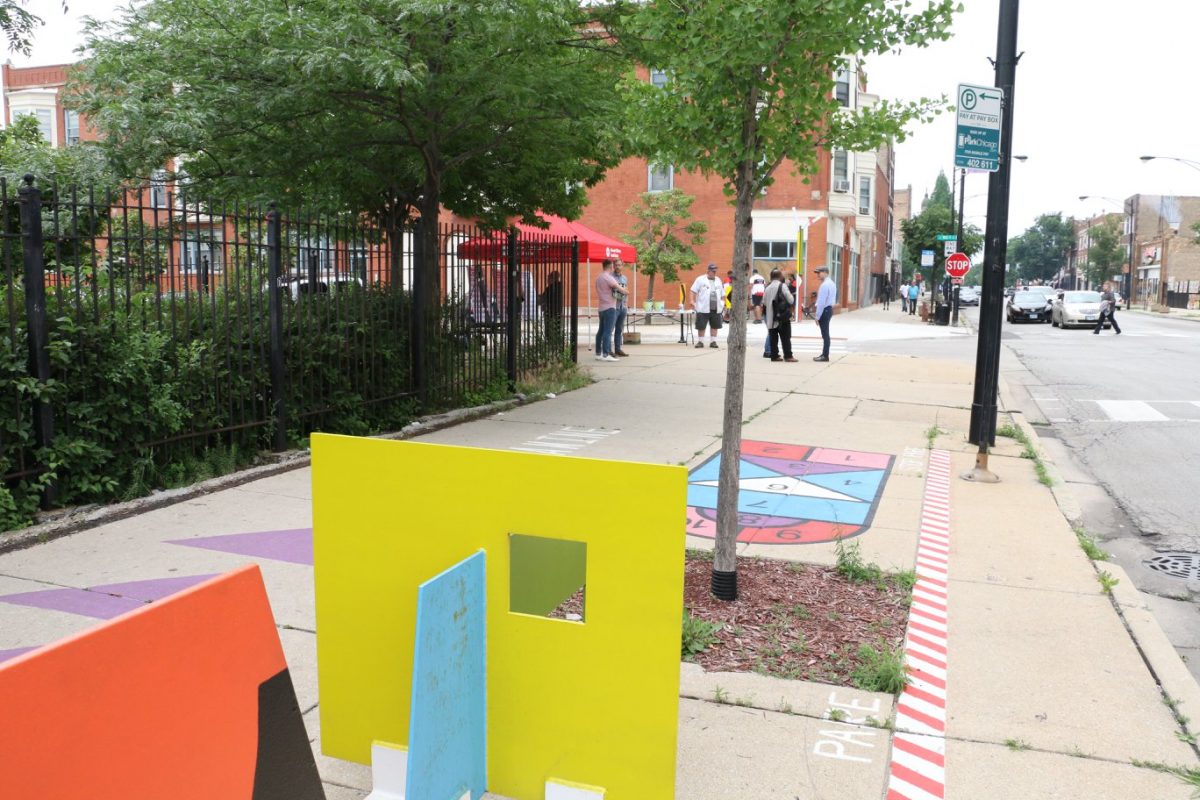 Commercial Avenue, future green infrastructure site. Photo credit: Julia Hunter of Work2gether4peace
In an effort to better control stormwater that could otherwise end up polluting the Great Lakes, the City of Chicago is planning to install green infrastructure along Commercial Avenue on Chicago's southeast side. Like many municipalities that pursue this nature-based approach, the city has struggled to maintain green infrastructure in the past.
So, the Alliance teamed up with Earthwatch and IBM Corporate Service Corps to come up with solutions for an improved maintenance plan. Their focus was Commercial Avenue on Chicago's southeast side. But the team's work could be a model for the region.
How Green Infrastructure Protects the Lakes
Water systems are failing in many Great Lakes communities. Aging and outdated, the systems are overwhelmed by heavy storms, sending polluted water into the lakes and surrounding waterways. Communities are turning to nature-based solutions, also known as "green infrastructure," to help deal with this problem.
Green infrastructure uses plants and soil to mimic how nature deals with water. It absorbs, slows down, and filters rainwater before the water reaches stormwater pipes or waterways. It can also beautify neighborhoods, create recreation space, and provide cost savings to communities. But maintaining green infrastructure and sourcing materials can be a challenge.
"Managing stormwater is critical to the Great Lakes, so developing a model for better, more sustainable practices around green infrastructure is really important," said Charlie Corwin, the Building Resilience Fellow leading the Alliance's work on Chicago's Southeast side.
Meet the Team
So, who are these experts that IBM sent to help the Alliance protect the Great Lakes? The four women — all from different countries and each with a distinct set of expertise — had never met face-to-face before arriving in Chicago. Thanks to video conferencing sessions and a lot of hard prep work ahead of time, they were able to form a close-knit team and hit the ground running.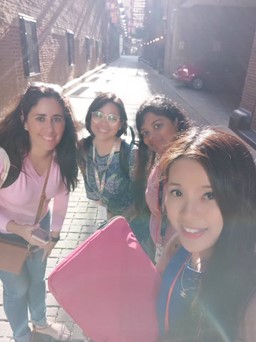 Katrina "Kat" Jucaban – Human Resources, Philippines
"Back home, one hour of rain causes thigh deep flooding," Kat shared. "It was interesting to learn that even developed markets have these challenges — where projects aren't always designed with maintenance in mind."
"Here, there are resources available to maximize potential of green infrastructure as long as there's a good plan in place. It's been wonderful to help develop a plan that can be used in Chicago. This is a lovely city."
Kimberly "Kim" Cham Siang Fen – Finance, Malaysia
"We're creating a green infrastructure maintenance model for south Chicago, and we can take what we've learned and apply it back home," said Kim, who has been working in finance and budgeting at IBM for 7 years.
"It's been great to bring my skill set to designing a green infrastructure maintenance plan," Kim said. "I have a new appreciation for the value of green infrastructure and it makes me want to contribute back to my country and apply insights we're learning here, across the globe."
Gomathi "Gomi" Rajan – Procurement, India
Gomi is an expert in procurement and supply chain analysis. She was excited to bring her expertise to the table to identify options for sourcing materials locally and supporting the local economy.
"One thing we all have in common coming out of this project is a new understanding of the stormwater issues facing Chicago, which all our countries also experience thanks to heavy rains," Gomi said.
"It's also been really valuable experience on a personal level," said Gomi. "It was the first time for many of us that we're away from our families for so long, it's good to know they survived without us. It's a learning experience for them and us."
Kelem Jordao – Hardware Engineering, Brazil
"In the Brazil office, I am responsible for certifying equipment and products that IBM sells in the marketplace. So I've applied my skills to make sure we're leaving the Alliance with a solid plan for developing green infrastructure," said Kelem Jordao, who has been a civil engineer at IBM for 18 years and has a masters degree in smart cities.
"Smart cities have different types of challenges, and sustainability is one of them," Kelem said. "This project has been enlightening and I've had the chance to work with colleagues from around the world that I never would have met otherwise."
Walking Away with New Friends and a Strong Maintenance Strategy
By the end of their four weeks at the Alliance, the team had developed friendships with colleagues around the world who they would likely have never met otherwise — both at IBM and the Alliance. They also left behind a thorough assessment of green infrastructure maintenance strategies, and a set of solid recommendations. These include sourcing materials locally and creating local jobs for community members.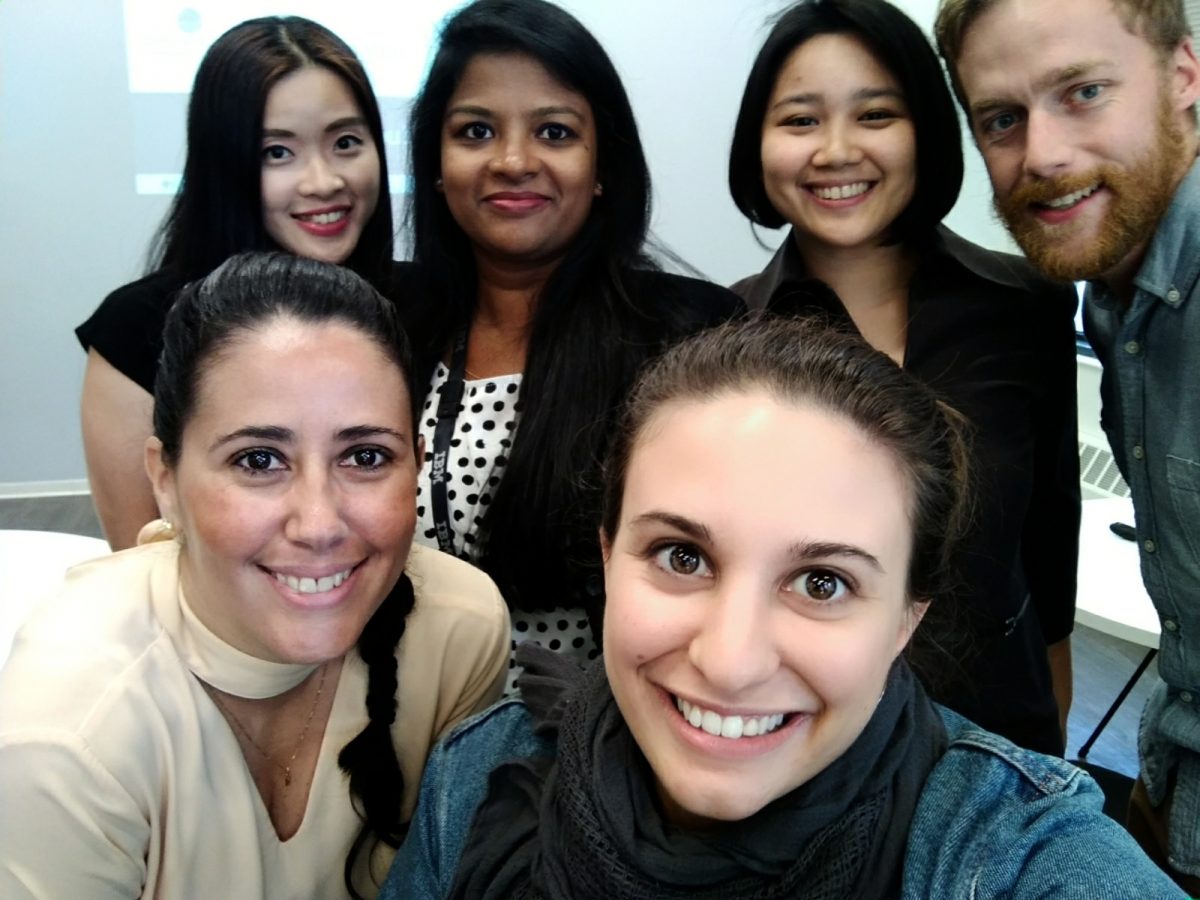 IBMers and Alliance staff, Charlie Corwin and Anna-Lisa Castle, take a celebratory selfie after completing a job well done.
"The IBMers' work will help us sustain green infrastructure and ensure that our work supports local southeast Chicago communities through job creation, neighborhood beautification, and community input," Charlie said. "Plus, the collaboration itself has been a lot of fun — it's been wonderful working with Gomi, Kelem, Kat and Kim."
"The Alliance for the Great Lakes has been a great home to us for the past four weeks," Kelem added.