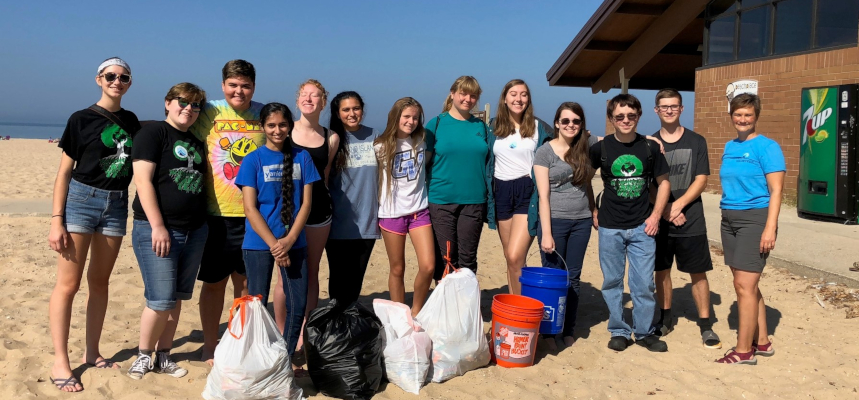 Christine Webster makes it her mission to inspire the next generation of eco-conscious citizens. An Adopt-a-Beach team leader and science instructor of 28 years, Webster also sponsors Hudsonville High School's Green Team, in Hudsonville, Michigan.
For the fourth year in a row, the student environmental group organized dozens of student volunteers to clean up Holland State Park Beach as part of September Adopt-a-Beach and the International Coastal Cleanup.
"International Coastal Cleanup is a really good event at the start of the school year for people to get involved and see what we're all about," said Webster.
September Adopt-a-Beach is the largest day of action for the Great Lakes, with hundreds of cleanup events around the region. It's part of a global movement as it is part of the Ocean Conservancy's International Coastal Cleanup.
Young People Join Together for the Great Lakes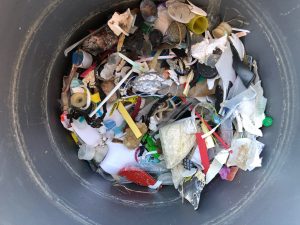 The mid-September day of action has been a perfect opportunity for the Green Team to kick off the school year and recruit young environmentalists from the incoming freshman class. To promote the beach cleanup, Green Team students created a "Did You Know?" series with data from past September Adopt-a-Beach events.
"We always have a decorated table, and fact sheets with litter data. We pose the question, 'Can we do better, can we exceed these numbers this year?'" Webster said.
This year, the high schoolers were joined by a group of college students from Michigan State University's Bailey Scholars Program in the College of Agriculture and Natural Resources. The collaboration offered a positive experience for high school and college students alike.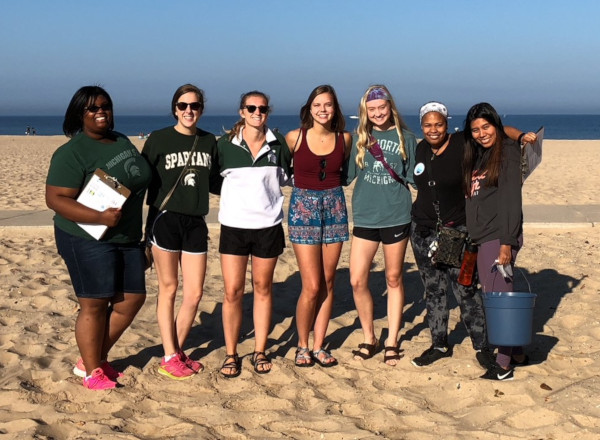 "One thing that I thought was cool is how thankful the community was for our students' act of service," said Reva Durr, who coordinated the Bailey Scholars' involvement in Adopt-a-Beach. "Many people who were sitting on the beach or just passing by stopped to thank us."
A Committed and Resourceful Bunch
Since the Green Team has taken a larger stewardship role at Holland State Park Beach, Webster has noted a shift. Beachgoers seem to stay and enjoy the water longer, many staying for a full day and setting up barbecues.
Off the beach, the Green Team works with city of Hudsonville's naturalist to implement native plantings in an 8-acre area adjacent to their school. They assess water quality with macroinvertebrate surveys and plant rain gardens as a drainage area to capture water from the school's new parking lot, which frequently flooded.
The students are a committed and resourceful bunch. They raise money by recycling bottles and cans from Hudsonville High School, gathering more than 2,000 pounds of plastic annually. The return on the bottle deposits funds many of the Green Team's operations, allowing the students to stay self-sufficient.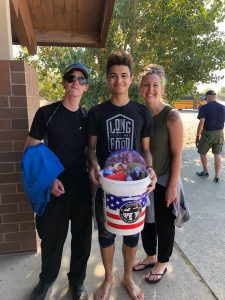 The Green Team, established eight years ago, has a track record of making an impact on students that lasts beyond the four years of high school.
"I have former students who come back to support," Webster said, adding that the Green Team students are exceptionally committed to the cause.
"As a teacher, that's the biggest reward in the world."