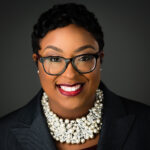 The sounds of vibrant fireworks, smoky barbecues and patriotic parades make people across the nation excited about celebrating the 4th of July and our nation's freedom from Great Britain's rule. However for many African Americans, Juneteenth (June 19) is celebrated as Freedom Day.
On June 19, 1865, the Emancipation Proclamation, which had been issued over two years earlier on January 1, 1863, was read to enslaved African Americans in Texas who were among the last to learn of their freedom. In commemoration of that historic day, African Americans celebrate our freedom from the bondage of slavery and liberation as a people. Juneteenth is now getting attention like never before, precisely because it has never been clearer how far we have yet to go in the pursuit of true liberation.
The tragic incidents with George Floyd, Ahmaud Arbery and Christian Cooper gave the world a glimpse of the fears, risks and struggles that people of color endure daily. These fears are front and center – even today over 150 years later – and are felt regardless of socioeconomic status. The story of Christian Cooper, the black bird watcher who was threatened by a white woman in Central Park, especially resonates with me. Not only am I an unapologetically black woman – I'm also a proud environmentalist.
I have built a career around my belief that black liberation and environmental justice are intimately tied together. I am inspired and motivated by the unique ways that communities of color practice sustainability – making full meals of food waste and passing clothes down from one generation to the next. Sustainability was a cultural practice way before it was cool.
For me, the racist threats against Christian Cooper underscored two American realities: that racial minorities are often unwelcome in white-dominated spaces, and the unspoken understanding that the "outdoors" are really only for white people in the first place.
This realization isn't new to me. I know the feeling of sitting in big rooms of environmentalists where I'm the only person of color, getting cold stares when I mention racial equity. I've had external colleagues insinuate that I am valued more for my ability to provide diversity to experts rather than as an expert myself. It is isolating. It is frustrating. But it's also inspiring. Inspiring because my team of water warrior sisters – my beloved black women colleagues – understand that we're in this together and insist on lifting each other up. Inspiring because my kids deserve a different world than the one I inherited and I am determined to deliver it for them.
As a first-generation college graduate from a working class family, I'm living my grandparents' wildest dreams. Advocating for environmental justice is my passion and purpose. But fighting for change isn't just the responsibility of people that look like me. We need everyone united in this movement for environmental and racial justice.
To my white colleagues: you've asked black and brown people to serve on your equity committees, to mentor you through authentic community engagement practices, and spend countless hours strategizing on ways to champion equity in environmental policies. We have obliged but now, right now, is your time to stand up and put actions behind thoughts and prayers. Equity should not be an afterthought.
For so many, the great outdoors is a symbol of freedom. On Juneteenth, Freedom Day, I am reminded that all are not free to share in nature's gifts…free to bird watch, free to jog in their neighborhoods, free of worry about exorbitant bills for water that may or may not be safe to drink. And, I am reminded in my work each day that many are not free to enjoy the precious natural resources the Great Lakes offer. The Alliance for the Great Lakes' leadership has designated Juneteenth as a paid annual holiday which will afford our staff the time to reflect and commit to advancing equity and justice. I'm grateful to work for an organization committed to using their privilege, voice and platforms to support marginalized communities. And, I also know that the work is not done.
As in years past, I will spend Juneteenth with family. We will dance to tunes created by our black musical legends, eat food that warms the soul, and dress the family in shirts that celebrate the pride of our people. While even being "okay" is tough these days, I still celebrate Juneteenth. I celebrate the resilience, ingenuity and brilliance of my people. I celebrate the opportunity to be a force in many movements fighting for change, understanding that they are all inextricably linked. I celebrate that the best is still yet to come.