Clean water issues are more important than ever. The COVID-19 crisis has shown us the critical importance of clean water to our personal health, and the health and safety of our families and our communities.
Right now, we have an opportunity to encourage candidates to stand up for clean water and the Great Lakes, and then hold them accountable once elected.
Your voice and your vote matter this election season. Here are the top five ways you can get involved.
#1: Vote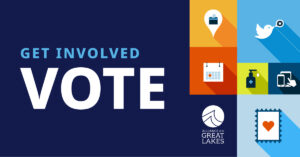 Voting is the most important way for you to have a voice in how our elected officials protect our water. But unfortunately, voting today is not as simple as just showing up to mark your ballot on election day. Some states have purged voter rolls and enacted new identity verification rules, which impact many people's ability to vote. And COVID-19 health concerns may impact Election Day with fewer polling places available.
It's important to make a voting plan to be sure your voice is heard on Election Day. Here are a few tips for how to create your plan:
Make sure you're registered to vote.
Check your polling location (and check it again).
Vote by mail or absentee ballot.
Visit our Great Lakes Voter Information Center to check your registration, find your polling location, and learn about voting by mail or absentee ballot in your area.
#2: Learn about the elected offices on the ballot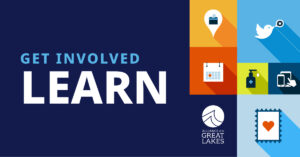 Elected officials set priorities that can lead to better protections for the lakes or leave them more vulnerable to pollution. They oversee agencies that implement clean water laws and regulations. And they make budget decisions that impact Great Lakes programs.
In 2020, many federal, state, and local offices are on the ballot around the Great Lakes region. The presidential election is this year. Indiana has a gubernatorial election. Michigan, Minnesota, and Illinois have U.S. Senate seats on the ballot. And, all seats in the U.S. House of Representatives are up for election.
While federal officials have significant influence on the health of the Great Lakes, your local mayor, city council members, and state house representatives can have enormous impact on local environmental issues. They oversee agencies that implement clean water laws and regulations, like those set by local environmental departments. And, agencies make budget decisions that impact your drinking water quality or your water bills.
Check out our Great Lakes Voter Information Center to learn more about candidates on your ballot.
#3: Attend a (virtual) candidate forum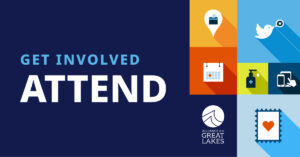 Candidate forums are an important way for you to get your issue on the agenda by asking questions about how the candidate plans to take action if elected.
The formats can vary, but they generally allow time for participants from the virtual audience to ask questions of the candidates. Some events ask for questions to be submitted ahead of time and sometimes questions can be asked right there on the spot.
Here are three tips to help you find candidate forums and ask important questions of candidates in your area:
Most candidate forums have been moved online. Check with groups like your local media outlets, civic organizations, and chambers of commerce that regularly organize these events and follow them on social media or sign up for their email lists to receive announcements.
Know the format. Forums may be public or private, may accept questions only in advance, and may follow other specific guidelines. Check on the rules before you plan to attend so you know what to expect.
Ask your question and make it personal. Make your question more impactful by sharing why it is personal to you and your community.
#4: Speak out on social media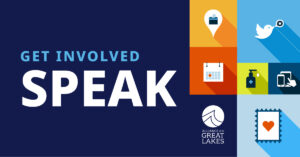 Voters like you can make sure that the Great Lakes and clean water are part of the election-year conversation. A great place to start is speaking out on social media.
Here are nine tips to get you started:
Use a #hashtag like #GreatLakes, #election2020, #vote, etc.
Tag candidates. Ask candidates questions directly by tagging them in your posts by using the @ sign with their campaign handle.
Be relevant. Use interesting facts, photos, or links. For example, link to a recent news article, or refer to current events in your community.
Keep it simple. It's great to provide interesting information, but a social media post is not an encyclopedia entry. Get to the point quickly and clearly.
Make your ask. Your posts should make it clear what questions you're asking and what action you want candidates to take.
Submit questions for interviews and candidate forums. Many news outlets will announce requests for question submissions via social media for an upcoming interview or candidate forum.
Share your participation in a candidate forum. If you plan to attend an event, share information about the event on social media or with friends and family.
#5: Get Out the Vote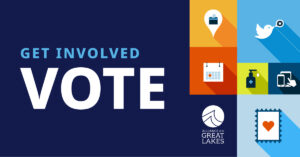 So, you've followed along, participated in events, asked questions, and stayed informed on important issues. Now what? It's time to get out and VOTE!
Once you've made sure you're registered and ready to vote, it's equally important to make sure friends, family, and other members of your community are registered and ready, too.
Share our Great Lakes Voter Information Center with family, friends and your community. They can use the Center to check the status of their registration and find early voting information and polling locations. The Voter Center is bilingual, available in English and Spanish.
The Alliance for the Great Lakes and the Election Season: Our Role
As a 501(c)(3) nonprofit organization, the Alliance for the Great Lakes cannot support or oppose candidates or political parties. However, we can, and do, educate candidates and voters on Great Lakes issues.