An epic decade-long effort to keep Great Lakes water in the basin provides inspiration, and crucial protection, as we face an even larger challenge: climate change.
For our 50th anniversary, we commissioned author and journalist Kari Lydersen to look at the Great Lakes and clean water issues that have shaped our region. Read the rest of the series here.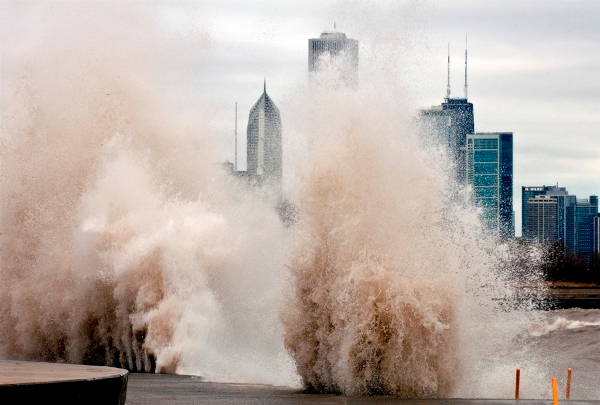 A warning rallies the region
In 1998, an obscure Canadian consulting company announced its intention to ship 158 million gallons of Lake Superior water to Asia.
Though that specific plan seemed unlikely to materialize, it was a warning that in a world increasingly plagued by droughts and warming temperatures, fresh clean Great Lakes water is an invaluable and potentially very lucrative commodity.
"There had been a fear for decades that with global water scarcity, sooner or later thirsty industry and people would come calling on the Great Lakes to their peril, to send Great Lakes water all over the continent or all over the world potentially," says Peter Annin, author of The Great Lakes Water Wars.
"That really rallied the region to create a legal water management paradigm to keep Great Lakes water in the Great Lakes watershed. It wasn't that 158 million gallons would harm Lake Superior, it would be virtually immeasurable. But it would have set a legal precedent. If you can send Great Lakes water to Asia, where can't you send it?"
An epic battle begins
Thus was launched an epic battle to keep Great Lakes water in the Great Lakes Basin. The Alliance (then the Lake Michigan Federation) and other lakes advocates began working tirelessly to persuade lawmakers and officials of the imminent threat, and craft policy to prevent diversions of Great Lakes water.
Alliance Vice President for Policy Molly Flanagan remembered that "there was this sense of scarcity in other parts of the country and fear in the Great Lakes region that those places might start to look to the Great Lakes as a source of water. In reality it would be astronomically expensive, but even the specter of that was enough to unify the region to say, 'This is a really important resource for our communities, our economies, our way of life, and we're keeping it here.'"
The effort required participation and ratification by all eight Great Lakes states and the federal government, including passage by Congress. Each state had to pass its own implementing legislation.
Flanagan, at the time working for the National Wildlife Federation, spearheaded collaboration with industry, farmers and other stakeholders to shepherd passage of the legislation in each state.
"In retrospect it was as challenging as you can imagine going into eight states and telling them they have to pass a piece of legislation exactly as written, and no they can't change any word, no they can't add or subtract anything," Flanagan said. Despite the challenges, "the ratification of the Compact happened really rapidly, because there was a good understanding by each of the states that we really have a resource in the Great Lakes that's worth protecting."
Success: A shining example of bipartisanship
After ratification by each state, on Oct. 3, 2008, President George W. Bush signed the Great Lakes–St. Lawrence River Basin Compact, which banned almost all diversions of water out of the basin. It also included a host of "remarkable," in Annin's words, sustainability and conservation measures.
The Compact was a shining example of bipartisanship, hashed out and adopted by both Republican- and Democrat-led states. Likewise after being signed by Bush, the provisions have been respected by subsequent administrations.
There were many thorny philosophical and practical questions. Could bottled water and beer be made in the Great Lakes — with Great Lakes Basin water — and sold outside the basin? How to deal with Chicago, which had been diverting millions or billions of gallons per day since the reversal of the Chicago River a century ago — by drawing drinking water from Lake Michigan and then sending treated wastewater out to the Mississippi River. What about municipalities that straddled the basin perimeter or lay just outside it?
Waukesha: Proving the Compact works
One such case presented a key legal and political challenge to the Compact. Waukesha, Wisconsin, just a mile and a half outside the basin near Milwaukee, is within a county that straddled the basin. Its water supply drawn from the ground was becoming increasingly contaminated with naturally occurring radium. The town wanted to be able to tap Lake Michigan water. Waukesha was eventually approved for an exception under the Compact, allowing it to use Lake Michigan water as long as it returns treated wastewater to the basin and meets stringent requirements for water conservation, efficiency and treatment.
Crafters of the Compact counted the resolution of the Waukesha matter as a victory, a logical and realistic solution that kept the Compact strong while providing a legal water supply to Waukesha if it plays by the rules.
The process that created the Great Lakes Compact also involved Canada, and U.S. governors work with Canadian premiers on protecting Great Lakes water and keeping it in the basin through an official agreement signed in 2005. The two Canadian provinces are also able to weigh in on any requests for diversions in the U.S.
Annin notes that the Compact is still seen "as a global model for international transboundary water management. And perhaps more miraculously, we had this bipartisan, multi-jurisdictional effort to protect one of the most important freshwater resources in the world on behalf of future generations, passed in the absence of a crisis. That doesn't happen often."
Climate change presents new challenges
When the Compact was signed, Great Lakes water levels were at nearly historic lows. Docks were left high and dry, barges were stranded in low rivers, and sport fishing and recreational boating were jeopardized as harbors drained. The appearance of the lakes receding before people's eyes lent an even greater sense of urgency to the Compact.
Today, lake levels are high, in some lakes at record high levels. Last year neighborhoods around Lake Ontario were flooded, and shipping was jeopardized on the St. Lawrence Seaway flowing out of the Great Lakes. The lakefront running trail in Chicago is sometimes underwater. Lakefront properties are swamped with water or buffeted by waves causing massive erosion.
Fluctuation in lake levels is natural and ecologically healthy. But the fluctuations are expected to be more drastic — with higher highs and lower lows — and to happen more quickly because of climate change.
And lake levels are far from the only way that climate change is affecting the Great Lakes. Warming temperatures are likely to worsen harmful algal blooms, and increased heavy rains will likely increase the runoff of fertilizer from farms that feeds those blooms. Heavy rains will also likely cause more combined sewer overflows — overwhelming sewer systems and forcing municipalities to release untreated sewage into the lakes or tributaries. Warmer temperatures may favor some invasive species and harm important native species.
"In this era of big [lake level] swings and rapid change, it is all the more important and very fortunate to have something like the Great Lakes Compact in force so that in a period of high water, short-sighted officials don't rush out and propose deals that end up looking terrible when we go back into a period of low water, which we always do," Annin says. "We have more volatility, more uncertainty, so the importance of a stabilizing factor like the Compact is arguably more important than ever."
The Compact as a model for addressing climate change
The Compact was an historic effort and symbol of bipartisan collaboration across jurisdictions. Hence it offers hope and best practices regarding how Great Lakes stakeholders can forge ahead to meet the challenges of climate change — both adapting to the inevitable and helping to curb climate change.
"How do we ensure we are as resilient as possible in the face of climate change?" asked Flanagan. "We're seeing that exposed pretty starkly with high water levels and coastal erosion. We need to be thinking together about how to address these issues. It's about taking a long view and looking at the resources as a whole instead of as individual pieces of property."
Major infrastructure upgrades are needed to handle increasingly fluctuating lake levels and increasingly powerful storms — to protect shorelines and water systems from damage and to protect the lakes from increased pollution brought on by storms and flooding. It's more important than ever to clean up legacy contamination, since storms could stir up contaminated sediment.
And with increased heat and economic and social stress related to climate change, Great Lakes communities will need to make sure the most vulnerable have access to the lakes themselves and to that most precious commodity: clean drinking water.
"The Compact is doing its job of keeping our Great Lakes water here where it belongs," says Alliance President & CEO Joel Brammeier. "Our challenge remains to make sure everyone who lives here can enjoy that water safely — in their homes, their businesses and in the outdoors."