The pandemic slowed but couldn't stop Great Lakers from volunteering this year.
While taking precautions, volunteers throughout the Great Lakes region cleaned beaches and neighborhoods and helped spread the word about threats facing the lakes. One even circled Lake Michigan by bike.
"We moved online and opened new ways for folks to get involved," Senior Volunteer Engagement Manager Tyrone Dobson said. "In a time that feels isolating, we found a way to connect people with our topics and issues and with each other."
Clean where you are
The extraordinary circumstances of COVID-19 put a damper on this year's Adopt-a-Beach cleanups. The total – 417 cleanups across all 5 lakes – was somewhat lower than in other years. But the volunteers who turned out came to clean! They cleared 10,000 pounds worth of trash.
For the first time, we held inland neighborhood cleanups, stopping trash that might have flown via sewer drains or other paths to the lakes.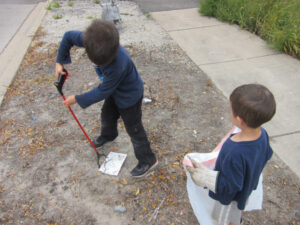 Liuan Huska, mom to two young children and a baby, organized one of the first of these neighborhood cleanups.
She lives 40 miles west of Chicago's North Avenue Beach. Focusing on a cleanup close to home made a big difference for her and her neighbors, Huska says.
"I have a book coming out in December, my three kids are partially e-learning and partially home schooling — so I have my hands full," Huska says.
Her family cleaned alongside railroad tracks near their home. Meanwhile 8 or 9 neighbors did the same, sharing photos and recording their trash haul via a Facebook event page.
It all made for a low-effort, high-impact cleanup, Huska says. "Because we are all social distanced and missing human contact, it was a small way to connect with others in the community."
Cleanups became places to connect
Adopt-a-Beach cleanups became some of the only times people got to see each other in (socially-distant) person this year.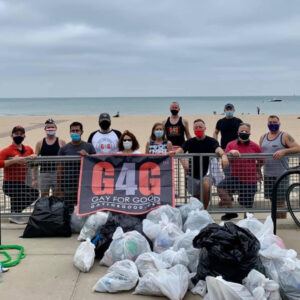 "This was really our comeback event," says Matt Belcher, a Chicago chapter leader for the national service group Gay For Good. "We were — I won't use the word desperate, but I will say anxious to do something when it was OK to do so."
About 300 Chicagoans on the group's membership list normally turn out to volunteer events. But they'd been on hiatus since March.
For Adopt-a-Beach, the group of 18 found less trash on the sand at Osterman Beach on the city's far North Side, and more where the beach meets the grass. They also found a wallet that Belcher was able to return to its grateful owner the day after the cleanup.
Adopt-a-Beach was a chance to connect for students from Arrupe College of Loyola University of Chicago, too.
"Students talk to me about how hard it is to make friends and connect online, so we're trying to be creative in how can we meet and also give back to the community" says David Keys, assistant dean for student success at the school.
Many who had not gotten to know each other before made connections at the cleanup. "They came in groups of 1 or 2 and left in socially distant but larger groups as they realized they were heading for the same train or bus," he says.
Keys also notes the Alliance made it easy to organize the event, including a registration form students used to RSVP on the new Adopt-A-Beach website.
He says it was "eye opening" for students at the cleanup to hear from Dobson at their event about the smaller items of trash that make their way into the lakes so often. Students have already requested the chance to do a beach cleanup again, he adds.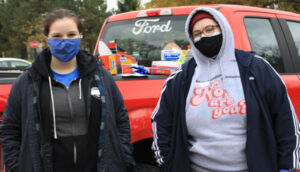 In Cleveland, Americorps volunteers Sara Morgan and Grace Vishnick had a similar experience. They organized about 50 people to clean Cleveland's Euclid and Edgewater beaches for Make A Difference Day October 27.
COVID-19 meant extra planning for the event, the two recent college grads say, but was worth it. It was their first beach cleanup, and the biggest surprise for them and their volunteer group was the amount of plastic – the most common item they cleaned was plastic tampon applicators.
"I knew the conditions of Lake Erie and that it needs a lot of work," Morgan says. "I know the lakes are a big part of our ecosystem… there's definitely a lot to do in terms of trash along the lakes."
Ambassadors spread the message
Cleanups are not the only way volunteers have been connecting despite the pandemic to help protect the Great Lakes.
Alliance Ambassadors – volunteers who speak about the Great Lakes and the issues facing them with various groups – have continued to be active, as well.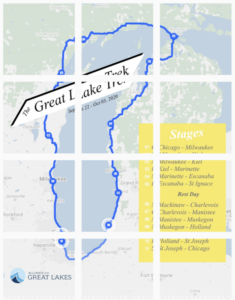 The most unusual outreach by an Ambassador during the pandemic is likely Tristyn Von Berg's bike ride around Lake Michigan. Von Berg nicknamed his Trek commuter bike "Richard Gears" after his father. A South Africa native, he had recently moved to Chicago when he decided to make the 950-mile journey.
Von Berg took along a shoebox to hold a change of clothes and not too much else. He shares the details in an interview with journalist Allison Devereaux on her Great Lakes Unsalted podcast. He also documents his journey in an epic series of Instagram posts.
The interview makes clear the trip was solitary most of the time. Von Berg shares how the beauty of the region and connections with people who helped him along the way inspired him.
"Maybe you take for granted how great your Great Lakes are, but they are an incredible natural landscape," he says. "The beauty of the landscapes and change as I went north and then back down south was quite breathtaking. I also got to meet strangers along the way who showed such amazing hospitality and kindness."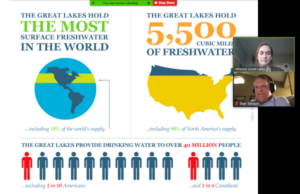 Blair Tatrault became an ambassador after retiring a few years ago.
"In a normal year, I do a few events a year," Tatrault says. He has spoken at elementary schools, environmental science classes at UW-Madison, and a public lecture at Lourdes University in Ohio, to name a few.
Now, he's working on speaking at virtual gatherings – connecting via Zoom can bring troubles all its own, he laughs. But in person or via the Internet, the connections are essential to bring home the challenges facing the Great Lakes, Tatrault says:
"There's no replacement for face-to-face discussion. We're just kind of facilitators – we're educators in a way, but we have to acknowledge that not everybody views the world through the same lens as we do and we need [all of us] to help solve the problem."