At the Alliance for the Great Lakes November 2020 Board of Directors meeting, the board voted unanimously to honor Paul Culhane as a Director Emeritus in recognition of his more than 30 years of combined board service to the Alliance and its predecessor organization, the Lake Michigan Federation. Paul's service to the organization over the past four decades is more than any living current or former board member. He is just the fourth emeritus board member ever designated and the first since the organization became the Alliance for the Great Lakes.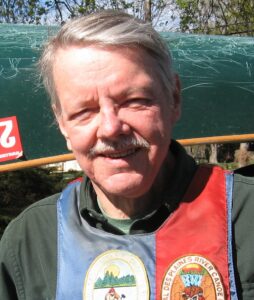 "Paul's fervent support for the protection of the Great Lakes and his depth of knowledge about the lakes, public policy, and organizational management have helped steer the organization through difficult times and into the thriving organization it is today," said Alliance for the Great Lakes Board Chair Sue Conatser. "We are all deeply grateful for Paul's service and are honored to have him as a Director Emeritus."
In the early 1970s, Culhane was involved in the beginning years of the Lake Michigan Federation. As a doctoral student, he was hired through a startup grant from the Ford Foundation and spent the 1973-74 academic year following Federation founder Lee Botts and staff to meetings, doing interviews and research to support the evaluation. A key finding of his report, The Lake Michigan Federation: Evaluation of an Environmental Interest Group (Northwestern, Center for Urban Affairs and Policy Research, 1974, 157 pp.) was that the Lake Michigan Federation was pivotal in organizing citizens' groups to provide a counterbalance to industry opposition to the 1972 Clean Water Act.
Culhane joined the Lake Michigan Federation board in 1981 and served continuously until 2001. In the 1990s, he co-chaired two executive director search committees and served as LMF Secretary from 1994-98, Treasurer from 1998-2001, and Chair of the Policy Committee. He returned to the board after the organization became the Alliance for the Great Lakes in 2005 and served in many capacities, including as Chair of the Nominations Committee from 2009-11, through November 2018.
In addition to all of this, Culhane is a longtime volunteer advocate for the Sierra Club, helped lead a Des Plaines River watershed organization for many years, was an election judge, is an avid paddler, and remains an Alliance donor.
Congratulations to Paul!