2020 was a year like no other. But volunteers still showed up in a big way for the Great Lakes.
Wednesday night, the Alliance celebrated everything our volunteers accomplished – and honored 3 special volunteers who helped make it happen.
Alliance Ambassadors Connect Online
Alliance Ambassadors work to connect community members to the Alliance and our Great Lakes work through tabling events and speaking engagements across the Great Lakes basin. This past year we moved all of our speaking events online. This allowed Ambassadors to attend events that we may not normally have engaged with – a sliver of good news during the global pandemic.
Brian O'Neill, Alliance Ambassador of the Year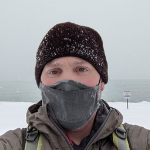 "Brian O'Neill spoke at more events this past year than any other Alliance Ambassador," says Olivia Reda, Alliance Volunteer Engagement Coordinator. "He is an active participant in our deep dive trainings and reading discussions. And when the Alliance showed Ambassadors our Voter Toolkit in 2020, Brian followed up with creative ideas on how Ambassadors could effectively distribute the information. I am very happy to announce him as our Alliance Ambassador Volunteer of the Year."
I volunteer with the Alliance because of the knowledge that the Lakes are both more magnificent and powerful than we can imagine, but also terribly vulnerable to our impact as humans. The Alliance works to protect them and the network of species that make up our world…and in doing so protects everyone who lives near, benefits from, draws their living from, stares in humble artistic awe at, or just plain loves the Lakes. Being a part of this, and being connected with people who are dedicated to this shared heritage, is rewarding, inspiring, and a spur to keep doing more. ~ Brian O'Neill
Adopt-a-Beach Volunteers Keep Cleaning Up
The Adopt-a-Beach program looked pretty different in 2020 than it usually does, but it still had a huge impact. Volunteers were able to collect more than 8,500 pounds of trash with more than 420 cleanups – all of this during a global pandemic.
Volunteers also helped the Alliance launch a new website and database for the program in 2020. This was a huge undertaking which took several months of building and testing.
One volunteer in particular rose to the occasion, helping lead cleanups and testing the new website.
Mike Jabot, Adopt-a-Beach Team Leader of the Year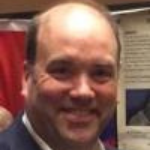 "Mike Jabot is a long-time Team Leader who led 6 cleanups last year totaling 58 pounds," says Tyrone Dobson, Alliance Senior Volunteer Engagement Manager. "He also helped us test our website over the course of two months. His feedback ultimately helped us create the great website we are using today. I am incredibly grateful for his work and I am happy to award him the Adopt-a-Beach Volunteer of the Year."
I volunteer with AGL because they are just such a humble and passionate community of citizens attempting to protect such a precious resource. I have never interacted with group that had such a laser focus on their work as those that partner with the Alliance for the Great Lakes. ~ Mike Jabot
Young Professional Council Hosts a Virtual Fundraiser
The Young Professional Council is a group of young professionals in the Chicago area who work to connect their networks to the Alliance. Traditionally, the YPC hosts Adopt-a-Beach cleanups, social gatherings, fundraisers, and all sorts of face-to-face engagement opportunities.
2020 really threw a wrench into this type of programming. Despite this, the YPC was able to host a bingo night titled XOXO, The Great Lakes. This event engaged nearly 50 people from all over the Great Lakes, many who are new to the Alliance. The event rose more than $400 – an impressive number for a virtual bingo night.
Victoria Sullivan, Young Professional Council Volunteer of the Year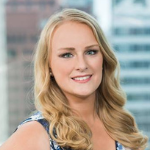 "Victoria Sullivan, one of our YPC members, took the idea of the bingo night and helped the YPC bring this fundraiser from idea to reality in a short number of weeks. Organizing this effort was no small feat," says Dobson. "Her leadership on this project made the difference and I am proud to recognize Victoria as the Young Professional Council Volunteer of the Year."
Water is our most precious natural resource, and as someone who's passionate about environmental protection, I strongly believe in the Alliance's mission to protect the Great Lakes for all. Volunteering with the Alliance has been a great way for me to help advance that mission, and working with the YPC offers many different ways to contribute. Whether it's through cleaning up our beaches, building awareness for community action, or fundraising to support the great work the Alliance does, we're able to make a difference for people and the environment for generations to come. ~ Victoria Sullivan
Volunteering Creates a Ripple Effect
Volunteers set a powerful example of what it means to protect the Great Lakes. Their visibility creates a ripple effect that gives their work even more impact.
"Volunteers are visible," says Alliance President & CEO Joel Brammeier. "People notice what they're doing. And that visibility is really, really important to the Great Lakes. When one person steps up, the people around them pay attention, and more of those folks step up. Even elected officials and businesses pay attention when they see people working on behalf of the Great Lakes."
Whether they're cleaning trash off beaches, speaking to local communities, or raising funds to protect clean water, our volunteers are also building momentum to protect the Great Lakes. Thank you to everyone who volunteers!