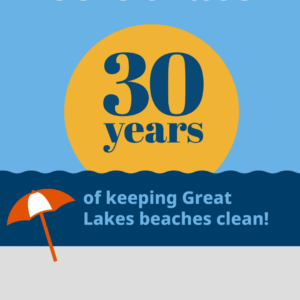 2021 marked the 30th anniversary of the Alliance for the Great Lakes' Adopt-a-Beach program. This year alone, volunteers hosted beach cleanups on all 5 Great Lakes and in all 8 states, with 7,883 volunteers gathering 25,280 pounds of litter at 719 beach cleanups.
This year's volunteers formed the latest wave in a movement that started in 1991. For 30 years, thousands of volunteers from all over the Great Lakes and from all walks of life have signed up and shown up for beach cleanups. They're part of an impactful movement to ensure that one of the world's largest surface freshwater systems is cleaner, safer, and protected.
Volunteers Make All the Difference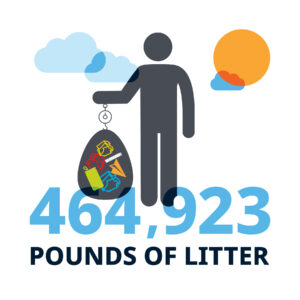 Adopt-a-Beach volunteers don't merely pick up thousands of pounds of litter from Great Lakes beaches and go home; they also collect important data. At each cleanup event, volunteers painstakingly tally each item they clean up, and the information is then entered into our online database that was developed in 2003. This huge data set – the largest of its kind in the Great Lakes region – provides us with invaluable information about the litter on our beaches and in the Great Lakes.
The biggest finding is that roughly 85% of the litter picked up during Adopt-a-Beach cleanups is made up fully or partially of plastic.
Putting the Focus on Plastic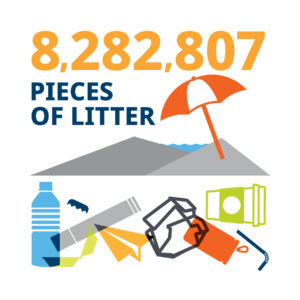 Adopt-a-Beach volunteers are on the front lines of keeping plastic out of our lakes. Their data collection efforts have raised the alarm about Great Lakes plastic pollution.
The data has also been critical to raising awareness about microplastics in the Great Lakes as the plastic on our beaches. Plastic, if not cleaned up, breaks down into smaller and smaller pieces that pollute our drinking water and harm wildlife.
Data from Adopt-a-Beach events has helped to narrow our attention on where we can best work together to reduce the use of plastic before it even reaches our beaches. For instance, food-related waste – from takeout containers to bottle caps – is among the top items found on Great Lakes beaches.
Researchers, elected officials, government agencies, and nonprofit partners have used Adopt-a-Beach data to make the case for private and public efforts, such as programs aimed at reducing single-use plastic items, to keep plastic pollution out of the lakes.
Thank You, Adopt-a-Beach Volunteers!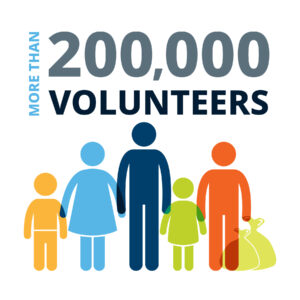 It is heartwarming and hope-inducing to join volunteers year after year, standing shoulder to shoulder with friends, neighbors, and people they may have just met, putting their own hands to work cleaning hundreds of miles of shoreline of the plastic and other debris that pollutes our water. And most importantly, we all learn from each other why clean water and time outdoors are so important to our families, friends, and communities.

~ Joel Brammeier, President & CEO, Alliance for the Great Lakes
Thank you to all of our team leaders, volunteers, and partners who have given their time and resources over the past 30 years. We couldn't accomplish all that we've done without your efforts!
Adopt-a-Beach Highlights Over the Years
1991: First Adopt-a-Beach events held in September as part of the International Coastal Cleanup. For the first decade-plus, Adopt-a-Beach cleanup events were held in September only.
2003: Adopt-a-Beach becomes the most extensive volunteer program ever to collect data on Great Lakes beach litter with the launch of year-round cleanups and an online database to ease data collection.
2007: Adopt-a-Beach volunteers push for and win beach smoking bans along 30 miles of shoreline in Michigan and Chicago.
2012: Adopt-a-Beach volunteers are among the first responders helping with cleanup after Hurricane Sandy blows in as a destructive superstorm, wreaking havoc on Lake Erie and the Cleveland lakefront
2012: Scientists begin publishing research on plastic pollution in the Great Lakes using Adopt-a-Beach data and other data sources. One of the early findings: widespread presence of plastic microbeads in the waters of all five Great Lakes, leading to an awareness about microplastics in the Great Lakes.
2018: A new toolkit – Plastic-Free Great Lakes: An Advocacy Toolkit to Make a Difference in Your Community – released to help volunteers take action on plastic pollution.
2018: A federal ban on plastic microbeads in personal care products takes effect across the U.S.
2020: An all-new Adopt-a-Beach website launched, making it easier than ever for people to volunteer and track data on their cleanups. And, despite a pandemic, volunteers kept connecting and cleaning up.