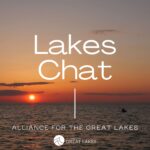 The annual priorities outline our federal policy agenda and identify the next steps Congress should take in this session to protect the lakes. Today we'll discuss our top Great Lakes priorities for lawmakers in Washington, DC, and dig into the opportunities and challenges facing our agenda in the year ahead.
Speakers include Alliance for the Great Lakes policy experts:
Joel Brammeier, President & CEO
Molly Flanagan, COO & Vice President for Programs
Crystal M.C. Davis, Vice President for Policy and Strategic Engagement
Don Jodrey, Director of Federal Relations
Jennifer Caddick, Vice President, Communications & Engagement (Moderator)
Resources
Please read our blog for a summary of the Great Lakes Federal Policy Agenda. You can also view our previously recorded webinar to hear our priorities laid out in detail. Let's keep the momentum going in 2022! Tell Congress: do 3 big things this year to protect the Great Lakes and the people who depend on them.