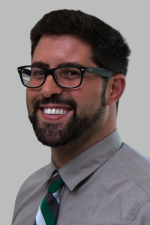 Matt Altstiel serves as Vice President for Development at the Alliance, overseeing efforts for Development, Community Engagement (volunteer programs), and Communications. Matt leads the organization's Development Committee and is helping oversee the creation of the Alliance's next strategic plan. In this role, Matt is advancing a culture of philanthropy and bolstering communications with a tailored, audience-focused approach.
Matt comes to the Alliance from Chicago's Metropolitan Planning Council (MPC), where he most recently served as Director of Development. Responsible for double-digit yearly growth in revenue over each of the last five years, he has a deep understanding of and passion for urban infrastructure and ecology. Prior to MPC, Matt was Chicago Public Schools' Senior Manager of Federal Grants, bringing the district more than $125M in competitive funding.
A fifth-generation Chicagoan, Matt lives in Albany Park with his wife, Ellie Bahrmasel, and rescue pup, Ozzie. He is on the Board of PODER and leading Alumni Engagement efforts for the Jewish Federation's Young Leaders Division (YLD) Board. In his spare time, Matt is a published author, photographer, and hip-hop recording artist.