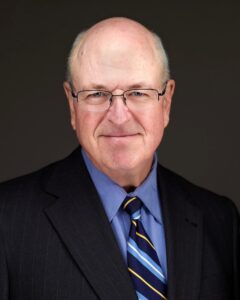 Bill Henry (Lisle, IL) is founder and principal of Amensal Systems, where he provides engineering and food safety consulting services to the food industry. Previously, Bill was the COO and CFO at Affy Tapple, a specialty snack food manufacturer. During his 17 years Bill oversaw major business expansions, developed new manufacturing processes, and implemented world class food safety initiatives, most notably a bioprotection system that uses natural, probiotic cultures to safeguard fresh produce from pathogens.
Bill's career encompassed a range of increasingly senior positions in finance and engineering at several public companies including CKD Corporation (factory automation components), Pacific Gas and Electric (utility) and The Mosaic Company (crop nutrients). Bill has also served on the boards of Signa Group, CKD USA, and Bear Creek Water and Sanitation (Colorado).
He is a member of the International Association of Food Protection, the American Association for the Advancement of Science, and the International Association for Great Lakes Research. He holds an MBA from the University of Chicago Booth School of Business and a BS in Engineering from the University of Illinois at Chicago.
Bill is an avid but unaccomplished golfer and loves long rides on his bike, despite the occasional mishap. He and his wife vacation on Lake Michigan every year along with their 3 children, 4 grandchildren and extended family.