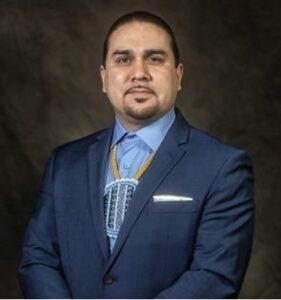 Daniel Guzman King, Oneida, Wisconsin is serving his 2nd term as a Councilman of the Oneida Nation. Daniel serves as a member of the Legislative Operating Committee, responsible for developing and amending new laws, codes and policy for the Oneida Nation. In 2019, Daniel was selected to serve on the Great Lakes Area Tribal Health Board, which is a regional board advocating for health care system improvements on behalf of tribal communities in the Midwest. In 2021, he was also selected to serve on EPA's Small Communities Advisory Committee.
Daniel graduated from Seymour High School in 2001. In 2004, he earned his Associates Degree in Hotel/Hospitality Management from Milwaukee Area Technical College. In 2015, Daniel earned his Bachelor's Degree in Business Management from Cardinal Stritch University. Daniel is a graduate of the Latino Nonprofit Leadership Program and also the Philanthropy Incubator Project – Legacy Building in Communities of Color.
Daniel stood on the front lines at the Standing Rock Indian Reservation to fight for tribal land and water rights that would impact all of Indian Country and understands the importance of exercising the Oneida Nation's sovereignty.
Councilman Guzman King is of the Turtle Clan. His loving family includes his grandparents, the late Peter "Buzzy" and Martha (Skenandore) King; his mother, Joyce King; brother, Lorenzo Guzman; aunties, Louise Cornelius, Margaret King, Susan Reiter and Kathy King; his late uncle, Peter King Jr.
Daniel Guzman King shared the following guiding words with the board: "When you sit and you counsel for the welfare of the people, think not of yourself, nor of your family, nor even your generation." ~ The Peacemaker