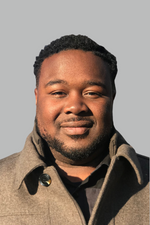 As the Alliance's Data Manager, Darryn supports the technology operations of the Alliance, focusing on maintaining the Alliance's digital infrastructure, cyber security and performing data analysis. Darryn is responsible for maintaining and upgrading the Alliance's databases and other digital tools used to execute our mission. He also supports the Alliance in assisting with reporting, project management, and creating data visualizations for storytelling.
Before joining the Alliance, Darryn was a senior program manager, developing and implementing environmental sustainability and STEAM-focused workforce development programs in Greater Cleveland. The programming was supported by The City of Cleveland's Depart of Public Utilities, Cleveland Mayor's Office of Sustainability, Northeast Ohio Regional Sewer District, and Youth Opportunities Unlimited.
Before becoming a program manager, Darryn worked as an Educator at the Cleveland Museum of Natural History and as a Sustainability Consultant at his alma mater Baldwin Wallace University. Darryn discovered a passion for building digital systems and automations to support non-profit operations and programming. He will use his skills, experience, and passion for the Great Lakes to continue to find innovative ways to support the Alliance. Darryn is also a singer/saxophonist/producer, enjoys running outdoors, and is a tech enthusiast.