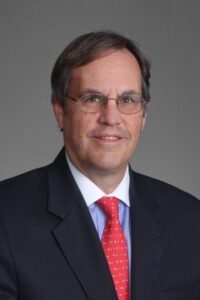 David Hackett is Senior Counsel at Baker McKenzie, LLP in Chicago, Illinois. He advises senior management, legal departments, and boards of major corporations and nonprofits on compliance, risk, environmental, and sustainability matters. Following his tenure with the Environmental Enforcement Division of the US Department of Justice, David joined the Firm, where he has played a formative role in establishing the Firm's compliance, environmental, climate, and ESG practices. At Baker McKenzie, David has served as the managing partner of North America, a member of the Global Executive Committee, and a Chicago office managing partner. He has also been the North America Chair of the Compliance Practice Group and the Banking, Finance, and Major Projects Practice Group.
He advises or sits on the Board of numerous nonprofits, including  Alliance for the Great Lakes, World Business Council for Sustainable Development, National Parks Conservation Association Midwest Advisory Board, Prince of Wales Charitable Foundation Accounting for Sustainability, Chicago Civic Consulting Alliance, Chicago Academy of Science/Peggy Notebaert Nature Museum, Chicago CRED, and the UN Global Compact US Board.
He is a graduate of Haverford College and the University of Pennsylvania Law School.