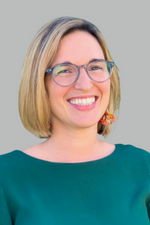 As the Individual Giving Manager, Genevieve focuses on cultivating and strengthening relationships between individual donors and the Alliance for the Great Lakes. Genevieve is guided by a passion for environmental justice and sustainability. She sees her role as an ambassador and champion of the Alliance's critical mission to protect and restore the Great Lakes. In addition to being a resource and contact for our donors, Genevieve manages the Alliance's signature event – the Great Blue Benefit – and supports the Development team with fundraising growth and strategy.

Genevieve brings eleven years of experience in various fundraising and engagement roles centered around environmental conservation. Prior to joining the Alliance, she worked for six years in fund development at the North Florida Land Trust. Prior to that, she worked as a grant consultant at Langton Consulting, LLC.

Genevieve earned her Bachelor of Arts in music, liberal arts, and philosophy from Florida State University. While her degree in music, classical voice did not evolve into her career, she still enjoys singing and was a member of the Jacksonville Symphony Chorus in Florida. Since moving to Chicago, she has enjoyed all-season bird watching along Lake Michigan and is thrilled to explore all that the five Great Lakes have to offer.