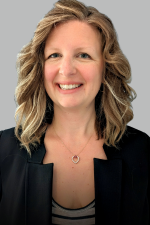 As the Senior Agriculture Policy Manager, Helena executes policy analysis, advocacy, and project implementation under the Agriculture and Water Restoration sections of the Alliance's strategy. She implements work across the Basin – particularly in Ohio – to achieve the Alliance's agriculture and water goals.
Prior to joining the Alliance, Helena served as an attorney at the Ohio Legislative Service Commission for over a decade. In that role, she provided legal research, bill analysis, and legislative drafting services on natural resources, agriculture, environment, transportation, and public safety matters to members of the Ohio General Assembly.
Helena holds a Bachelor of Arts in Political Science and International Studies from Wright State University and a Juris Doctorate from Case Western Reserve University School of Law. Lifelong Ohioans, she and her husband Joe currently reside in Columbus with their two children.
In her free time, Helena plays volleyball and enjoys traveling, cooking, cycling, and hiking.