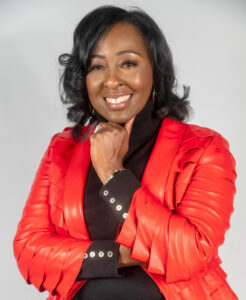 Kimberly Hill Knott is President & CEO of Future Insight Consulting, LLC, which specializes in advocacy and coalition building. Recently, Kimberly received a certificate in Sustainable Management from Duke University. She is a contributing author to Collaborating for Climate Resilience. Currently, she serves as an advisor to the World Resources Institute on electric vehicles.
Prior to Kimberly becoming a full-time entrepreneur, she spent more than a decade working under the leadership of former Congressman John Conyers. She furthered her interest in the political arena by joining the staff of Detroiters Working for Environmental Justice (DWEJ). She held several policy positions, eventually being promoted to Policy Director.
While on staff at DWEJ, her most notable project was spearheading the Detroit Climate Action Collaborative, which developed the city of Detroit's first Climate Action Plan. Kimberly also convened a policy group to lead the passage of the Greenhouse Gas Ordinance. As a result of her work addressing climate change, she was the recipient of the prestigious White House Champions of Change Award for a Community Resilience Leader. She is a wife and mother of a baby boy.