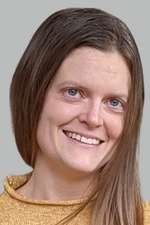 Nora joined the Alliance in 2022. As Executive Assistant, Nora facilitates the advancement of the Alliance's strategic goals by ensuring that the organization's leadership can maximize the strategic use of their time. Nora also serves as Board liaison, working to make sure Alliance Board members have the information, tools, and support they need to lead the organization forward.

Prior to coming to the Alliance, Nora worked for Rotary International, an international membership and service organization, for seven years. There, she built broad experience in non-profit administration and volunteer support. Nora has a bachelor's degree in art history from Oberlin College and a master's degree in public service management from DePaul University.
Nora is a lifelong Chicagoan and enjoys spending time running through the city's neighborhoods, exploring its many parks and preserves with her dog, and scouting out the best coffee shops to linger in with a good book.