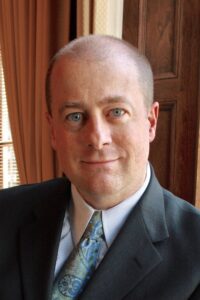 Tom Langmyer is President & Chief Executive Officer of Great Lakes Media, LLC (a Delaware Corporation), a media acquisition and advisory firm. He is a nationally known and respected expert on localism in media, sales, marketing, and content. Langmyer consults in major markets in a broad variety of news, talk, sports, and music formats.
Before founding Great Lakes Media, he was VP & Market Manager of WTMJ and WKTI Milwaukee and served as Corporate VP, News/Talk/Sports Programming for Scripps Radio. Langmyer spent nearly a decade as VP & General Manager of Tribune's WGN Radio in Chicago, leading the station back to the top of the ratings – and breaking revenue records for the station and for the Chicago market.
Prior to moving to Chicago, Langmyer was Vice President & General Manager of CBS Radio's KMOX in St. Louis and National Corporate Vice President, Programming for CBS Radio's News/Talk Stations Group. Early in his career, the Buffalo native worked at local radio and TV stations WBEN, WJJL, WJYE, WIVB and at WGR, where he was an airborne traffic pilot, reporter and worked in program management.
Active in the community, Langmyer has served on numerous boards, including the Urban League of Greater St. Louis, Gilda's Club of Chicago, the Chicagoland Chamber of Commerce, Boy Scouts of America/Mid-America, St. Louis Regional Chamber, Grove City College Alumni Council, Illinois Broadcasters Association, and the Buffalo Broadcasters Association.
Langmyer was recognized in 2022 as one of the Top 20 Leaders in the Radio Industry by Radio INK Magazine. He received the Radio Wayne Award as Major Market General Manager of the Year at the National Broadcasters Association Meetings while he was at WGN, and he was presented with the Jack Kennedy Alumni Achievement Award in the Field of Media, from Grove City College in 2018. He received the Good Samaritan Award from The Archdiocese of Saint Louis for his work as Chairman for the Christmas Appeal in 2004. Langmyer was inducted into the Buffalo Broadcasters Association's Hall of Fame in 2018.
He served as Administrator for Hockey North America in St. Louis and as a coach, player, and a team captain. Langmyer is a pilot. Interested in the Great Lakes, in 2010 he wrote Lake Erie: History & Views, a comprehensive book which tells the story of Lake Erie from the formation of the lake, settlement, and individual histories of each of the cities and towns surrounding the lake. Langmyer continues to serve on the Executive Committee of the Alliance for The Great Lakes.
A graduate of Grove City College (PA), Tom and his wife, Mary, split their time between homes in Whitefish Bay, WI and Boston, NY.