As of this year, many Great Lakes states and provinces are under new leadership. With five new governors in office and two premiers carrying out their first term, this weekend's Great Lakes — St. Lawrence Leadership Summit marked a new collaboration. It also hinted at a new vision of Great Lakes leadership.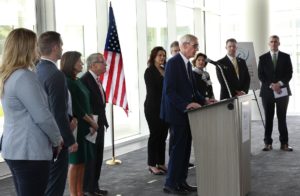 This past weekend, the Great Lakes governors and premiers met in Milwaukee, hosted by Wisconsin Governor Tony Evers. They signed resolutions pledging collaboration on some of the most pressing Great Lakes water issues, including PFAS contamination, lead service line replacement, and advocacy for water infrastructure investment. Leaders from Ohio, Michigan, and Ontario recommitted to the goal of 40% reduction of phosphorus entering western Lake Erie by 2025 – a critical step since the elected officials who made that commitment in 2015 are no longer in office.
I was glad to see the governors and premiers take a more comprehensive view on drinking water as a Great Lakes issue. Nearly 40 million people drink Great Lakes water every day, so addressing what affects the safety and accessibility of that water — from contaminants like PFAS and lead to water infrastructure, and water affordability — is an essential part of what it means to protect the Great Lakes.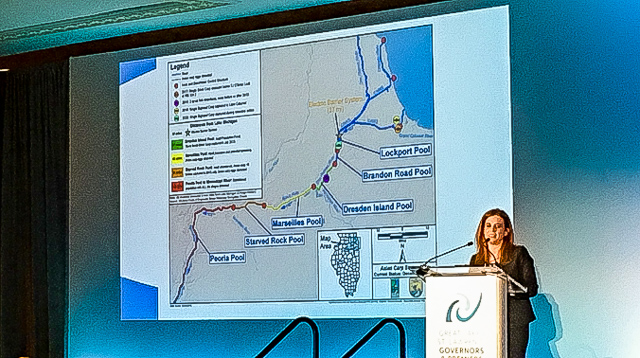 The governors and premiers continued to work toward agreement on the path to building new protections against Asian carp at Brandon Road Lock and Dam. The Alliance's own Vice President of Policy, Molly Flanagan, briefed the governors and state and provincial attendees on Asian carp and other invasive species. With Illinois finally signing on as the local sponsor of the project and the U.S. Army Corps of Engineers issuing its official "go" recommendation to Congress in May, the states and provinces are meeting in Chicago in July to hash out details. Fortunately, the Corps is now positioned to start the next phase of work — preconstruction, engineering, and design — as soon as Illinois signs the design agreement and federal and non-federal funds are available. Michigan Governor Gretchen Whitmer made it clear that stopping Asian carp was the "number one priority" for Michigan's Department of Natural Resources.
The clean water resolutions are first steps that I hope will lead to forceful commitments in the future. As of today, they are focused on sharing data, best practices, research initiative, and funding needs. Notably, the leaders called for equitable funding mechanisms for lead service line replacement. They also called for convenings to discuss research that could lead to "greater consensus" on protective standards for PFAS.
There remains a long road ahead on reducing toxic algae in Lake Erie. It was particularly good to hear new Ohio Governor Mike DeWine speak from the heart on his commitment to the 40% phosphorus reduction goal, knowing that measurable progress has been slow. He made it clear that he and the Ohio legislature plan to put significant state funding to work on this issue this year. Much more work remains to ensure clean water accountability and appropriate targeting, and Ohioans are bracing right now for an anticipated off-the-charts bloom due to record rainfall washing agricultural fertilizer into Lake Erie.
While each state faces its own combination of water challenges and each governor must contend with their own political landscape, no one leader or state can solve these problems alone.
Great Lakes water doesn't stop at state borders–neither do pollutants, invasive species, or fiscal challenges. Our region's leaders will need to work proactively together to protect the Great Lakes and the 40 million people that rely on them. One of the speakers this weekend reminded us that it's not really about stormwater, drinking water, or wastewater — it's about the people who use that water in so many ways.
This weekend's summit marks a renewed commitment to clean water and an important first step in regional collaboration to protect the Great Lakes. The people of the Great Lakes region will be watching closely to ensure they take the actions needed to make their clean water vision a reality.
By Alliance President and CEO Joel Brammeier