This summer Juliann Krupa, Volunteer Engagement Manager, and Oliva Reda, Volunteer Engagement Coordinator, set out to clean beaches and meet volunteers around the Great Lakes region. They cleaned up trash, heard from communities, and built new connections. We chatted with the Volunteer team to hear some of the highlights of their travels so far, the program's goal to collect a half million pounds of litter, and what's next for the Adopt-a-Beach™ program.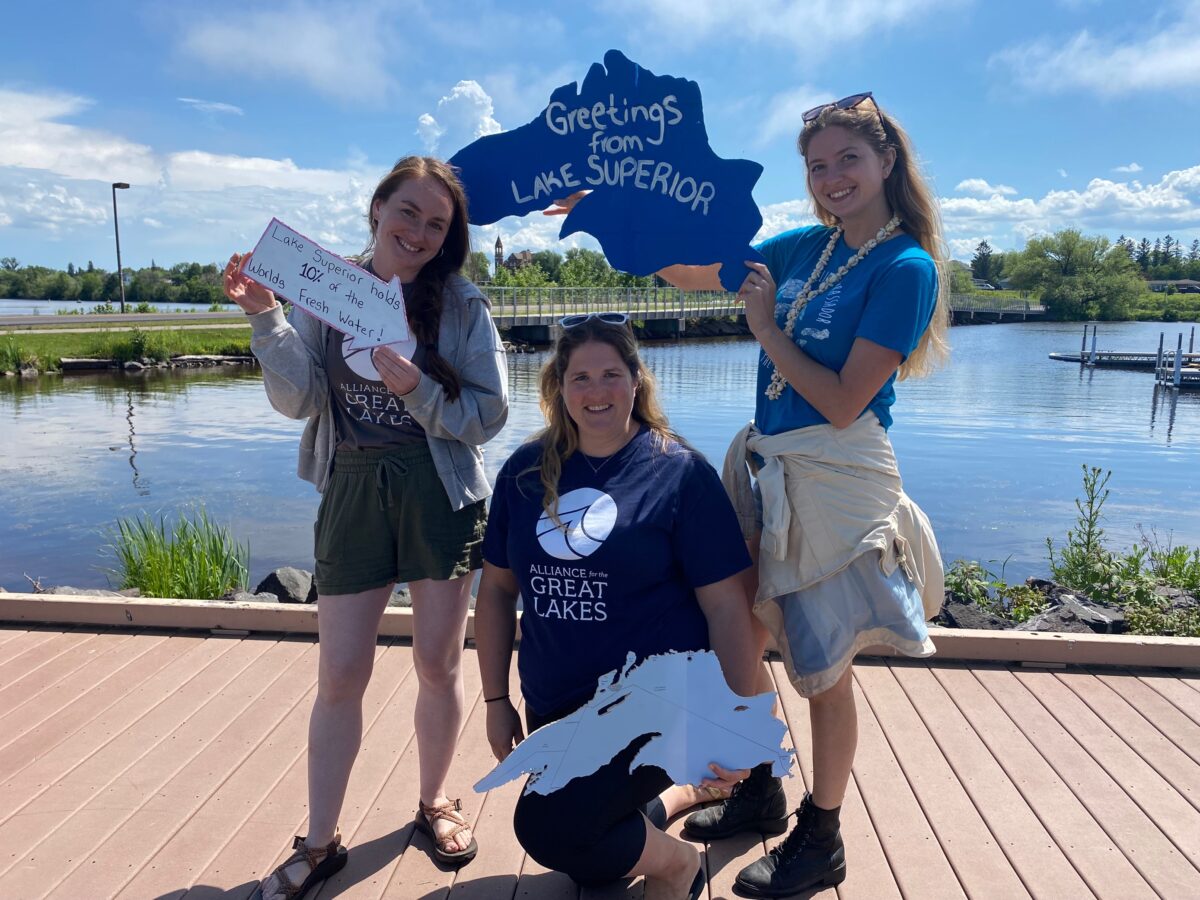 Alliance: What was the catalyst for taking a cleanup road trip this summer?
Juliann: After two years of the pandemic, Olivia and I wanted to make an intentional effort to get out and connect face-to-face with people and groups around the region. The Alliance for the Great Lakes works to represent the entire Great Lakes region. So that means all the way from New York to Minnesota. We felt it was essential to get on the ground in many places, reconnect with partners old and new, and hear directly what issues people are talking about in various regions.
Olivia: It was helpful for us to see many of the locations where cleanups happen. A lot of times, volunteers will reach out wanting some recommendations in a particular area. So, it's helpful for us to see some of these locations and help potential volunteers.
Alliance: Were you able to ask the volunteers questions about why they got involved?
Olivia Yes, we did. It's super helpful to speak to volunteers on the ground in their areas. We learned a lot about what volunteers care about in each area. So, it's beneficial to see the locations ourselves and hear from local communities and volunteers about what's most pressing for them in those areas.
Alliance: Were there any interesting volunteer stories or volunteer adventures this summer?
Juliann: We had one experience in Rochester, NY, where we met a volunteer at a cleanup. Afterward, they offered and were willing to show us around some sites where they had seen a lot of plastic pollution build-up.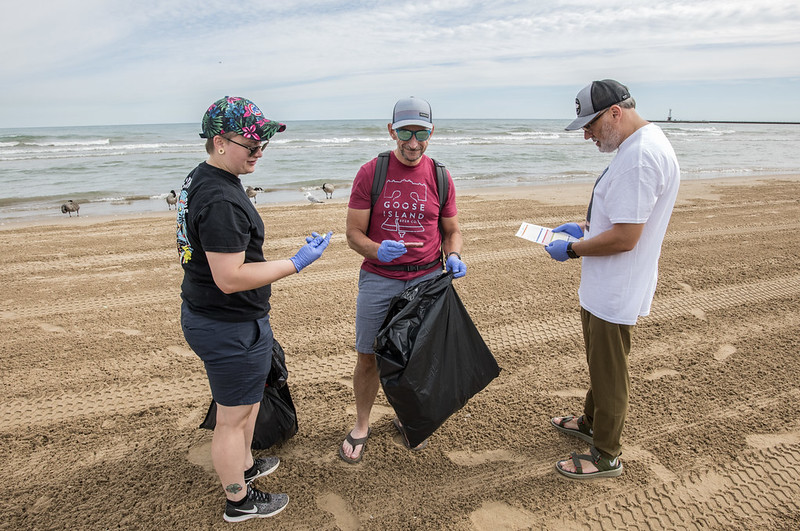 Olivia: For our first Spring KickOff cleanup this year, we had one of our corporate cleanups with Merz Pharma at Racine Zoo Beach. It was pouring rain, and it was not the warmest either, but they were real troopers. Moments like those emphasize how awesome our volunteers are and how they're willing to help rain or shine.
Alliance: Let's talk about September Adopt–a–Beach a little bit. The date is approaching. Are there any specific goals you hope to achieve this year?
Juliann: September Adopt-a-Beach is the most important day of action for the Great Lakes. Thousands of Adopt-a-Beach volunteers will clean and celebrate Great Lakes shorelines as part of the International Coastal Cleanup, which is held on the third Saturday of September each year.
The Alliance is the Great Lakes coordinator for this effort. We hope to have around 5,000 volunteers across the Great Lakes on September 17th working to keep their coastlines clean and collecting data on what they find that goes back into our regional coastal litter dataset.
This year we're working to reach our goal of collecting half a million pounds of litter from Great Lakes shorelines. So, we're close, and hoping September Adopt–a–Beach will bring us over that number.
Olivia: We're hoping to reach this goal, and it will shine a powerful spotlight on the magnitude of plastic pollution and continue to educate and inspire people to take action on this issue."
Alliance: For people who are thinking about volunteering for cleanups like September Adopt-a-Beach to do their part to keep our beaches and shorelines clean, how can they get involved?
Olivia: It's super easy to get started with us. There are a couple of different options to get involved with September Adopt–a–Beach; you can find a cleanup to attend in your area. So, you can go to adopt.greatlakes.org and find a cleanup near you to attend and register.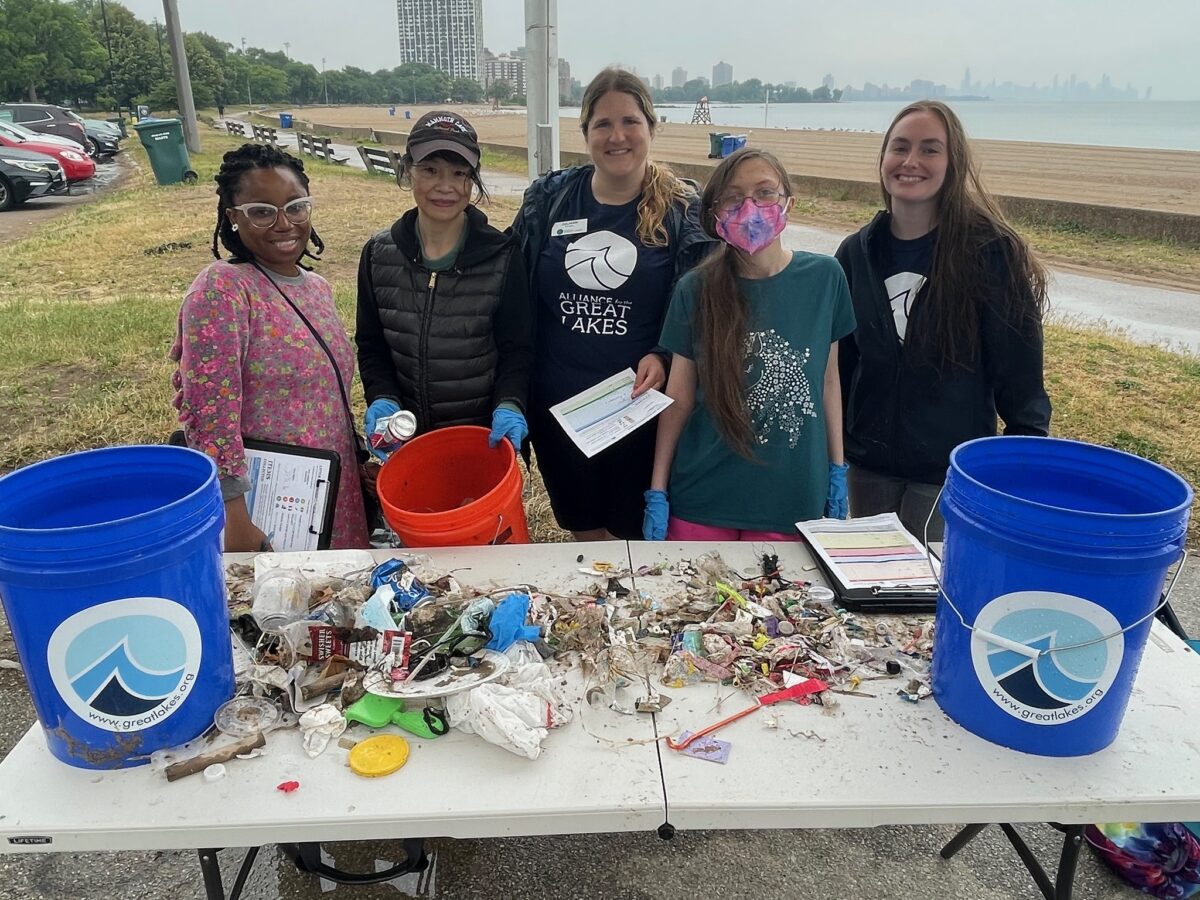 Juliann: You can also become a Team Leader by hosting a cleanup with us. So, you can choose a date and beach location where you would like to lead a cleanup and invite your community members to attend. We have a lot of resources available to support you.
Olivia: We also have a virtual Team Leader training coming up that you can attend and get some tips on the process of being a team leader and leading a cleanup. 
Alliance: What is the biggest takeaway from your summer road trip experience?
Juliann: It was a great learning experience for both of us. We learned a lot more about the lakes, and it was great to make new connections and rekindle old relationships. We're inspired by how much advocacy and action there is for the Lakes and how many people care about this resource and human health.
Juliann and Olivia are not done touring the Great Lakes region. They have additional stops planned for the rest of August and September and look forward to keeping the conversations going over the winter.