The Alliance for the Great Lakes Board of Directors held their annual retreat November 18-19 in Chicago. At the meeting, the board elected two new Directors and a slate of officers, while saying farewell to six term-limited directors.
New Board Members: Dr. Sri Vedachalam & Dr. Wren Montgomery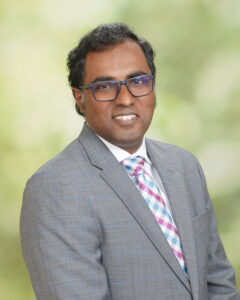 Dr. Sri Vedachalam is Director, Water Equity and Climate Resilience, at ECT, Inc., where he works with communities to address their water quality and access challenges. He is a water policy specialist, and his work has covered national water issues such as affordability, aging infrastructure, extreme weather impacts, financing, public trust, and non-point source pollution. Prior to this role, he set up and grew the water program at the Environmental Policy Innovation Center, turning it from a one-person operation to a national powerhouse. During his stint as researcher at the Cornell University-based New York State Water Resources Institute, he experienced first-hand the beauty of the Great Lakes region.
He currently serves on the advisory board for the communications nonprofit Water Hub, and is a member of Blue Accounting's Drinking Water work group facilitated by the Great Lakes Commission. Dr. Vedachalam is also the Editor for Urban Water at Global Water Forum, a resource for evidence-based, accessible, and open-access articles on freshwater governance. He was named a 2022 Top 10 Young Professional by Water & Wastes Digest. He holds a Ph.D. from The Ohio State University and lives with his wife and two kids in the Washington, DC metro area.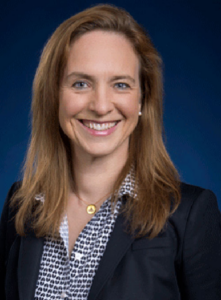 Dr. Wren Montgomery is Assistant Professor of Sustainability & General Management at Western University's Ivey Business School in London, Ontario, and a Faculty Affiliate at the University of Michigan's Erb Institute for Global Sustainable Enterprise. Her research, teaching, and impact work focuses on environmental and social organizing, how it changes norms and institutions, and how it interacts with corporations. She is primarily interested in unique forms of collaboration and unconventional coalitions with the potential to overcome obstacles to solving many of the world's most pressing challenges. Dr. Montgomery focuses on the intersections of climate change, water crises, soil degradation, and social justice. Her multi-year research project on water access and affordability – with a focus on Detroit – has received several prestigious honors.
Dr. Montgomery is deeply committed to doing research that has both academic significance and a more immediate impact on the world around us. She does this by helping students to understand the roots of problems and identify leverage points for change, by working with organizations to raise awareness of these challenges, by highlighting successful approaches and tools, by engaging and working collaboratively with impacted communities, and by serving on government and corporate boards. She is also an experienced management consultant and senior government policy analyst.
New & Returning Officers
Jo-Elle Mogerman was re-elected as Board Chair. Susan McDermott was elected to a second term as Treasurer. Tom Langmyer was elected to his first term as Nominating Committee Chair. Vanessa Tey Iosue was elected to her second term as Vice Chair of Policy.
The board also said farewell to six directors who are term-limited after six years of service: Aaron Fershee, Adrienne Dziak, Claire Castleman, David Schmahl, Lauren Bigelow, and Sue Conatser.
"Thank you to all of our board members – past and present – for their dedication and leadership," said Joel Brammeier, the Alliance's President & CEO. "Our work would not be possible without their time and expertise. They are integral to the Alliance's successes in protecting and restoring this resource we all cherish. We look forward to the contributions of our newest board members and share all our gratitude to those saying farewell."
For a complete listing of Alliance for the Great Lakes directors and officers, visit our Board of Directors page.