From Manitowoc to Buffalo to a national teach-in, Alliance Ambassadors connected thousands of people to the Great Lakes in the first 5 months of 2023.
"Ambassadors are volunteers with a passion for the Great Lakes," said Olivia Reda, the Alliance's Volunteer Engagement Manager. "The Alliance trains them to spread awareness about the Alliance, the Great Lakes, and how their communities can get involved. Our staff can't be everywhere at once. Ambassadors give us vital face-to-face contact in communities that want to connect with our work."
Building Great Lakes connections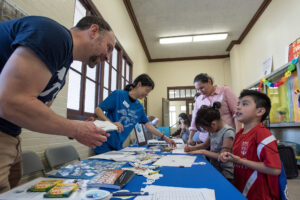 Ambassadors built connections in many ways this spring. They gave presentations online and in person. They staffed tables at environmental fairs and fundraising events. They talked to Adopt-a-Beach teams throughout the region.
"It's exciting to see how many different audiences Ambassadors have worked with already this year," said Reda. "And at so many cool events!"
Their audiences included everyone from Girl Scouts to Rotary Club members, families to retail store customers, high school students to members of a sailing club.
"Whenever they're part of these events, Ambassadors create a sense of community and connection. With each other, with people who love the lakes – they're part of bringing the community together."
Some highlights:
Wild Things Conference: Sarah Murphy, Sara Singh, and Pawan Singh made it possible for the Alliance to participate in this conference for the first time, connecting the Alliance with nature enthusiasts from across Illinois and beyond.
Book Signing: Brian O'Neill and Eileen Ryan welcomed and seated guests at a book signing with Great Lakes author Dan Egan.
National Biodiversity Teach-In: Sara Singh gave an online presentation to students across the country about plastic pollution in the Great Lakes.
Zoos and a Museum: Novem Cheng, Jenna Engberts, and Devin Wilson engaged families in Great Lakes activities at the Buffalo Zoo, the Detroit Zoo, and the Cleveland Museum of Natural History.
"Ambassadors' passion for the Great Lakes is contagious," said Reda. "Every time Ambassadors go out, we get more people joining our email list, more people joining Adopt-a-Beach, more people saying they want to get involved. I'm honored to work with our Ambassadors. They inspire me every day!"