At the Alliance for the Great Lakes Board of Directors meeting on October 6, 2023, in Chicago, the Board welcomed Timothy Alston for a three-year term.
New Board Member: Timothy Alston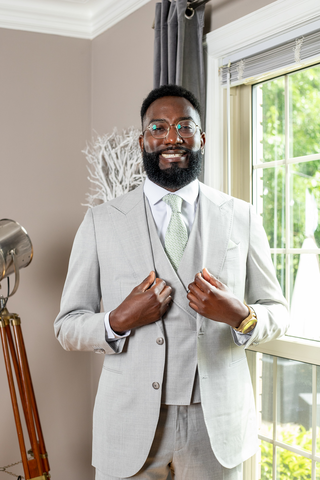 Timothy is a process controls engineer at the Gary Sanitary District, one of the largest wastewater utilities in the State of Indiana and one of the few majority-black employees utilities in the region. He provides direct technical and advisory support to the Plant Superintendent on wastewater treatment plant improvements and optimizing plant processes. He also helps manage the Operations and Maintenance Department, which is the heartbeat of the utility. Timothy was an environmental consultant for CDM Smith Inc. in the Chicago Office from 2018-2020.
As a young professional living in Chicago, Timothy has demonstrated a passion for mentorship to underserved communities through his work as an undergraduate mentor and the Director of Programs for the Chicago Chapter of the National Society of Black Engineers (NSBE), as well as spearheading the American Society of Civil Engineers (ASCE) Student Outreach Mentorship Program from 2019-2021.
Timothy is a Co-Founder of the Black Water Professionals Alliance Inc. (BWPA), which has grown to over 200 members across the country. The mission of BWPA is to increase diversity, equity, and inclusion by fostering a community focused on networking, professional development, and leadership opportunities for Black people in the water industry. He has personally mentored over 100 students in developing their STEM academic and professional skills over the past several years through a nonprofit called SMASH Academy.
Originally from Maryland, Timothy received his B.S. in Environmental Science from Claflin University, a historic HBCU in South Carolina, and his M.S. in Environmental Engineering from the University of Illinois Urbana-Champaign.
He and his wife currently live in South Loop, Chicago, and just tied the knot this past July 23, 2023.
New & Returning Officers
Laura Payne was elected to a second two-year term as Vice Chair of Development. Bill Henry was elected to a second two-year term as Board Secretary.
Leaving Office
The board also said farewell to term-limited board director Quentin James and expressed special gratitude for his six years of service.
"I extend a heartfelt thank you to our board members—past and present—for their unwavering dedication and exceptional leadership," said Joel Brammeier, President & CEO of the Alliance. "Their invaluable time and expertise are fundamental to the achievements of the Alliance in safeguarding and revitalizing the Great Lakes. We eagerly anticipate the valuable contributions of our newest board member and extend our deepest appreciation to those transitioning on."
For a complete listing of Alliance for the Great Lakes directors and officers, visit our Board of Directors page.