Clean, Safe, Affordable Tap Water
Clean water is a basic human need. But not everyone in the Great Lakes region has safe, affordable water.
We live on the shores of the world's largest surface freshwater system. It is unacceptable that some Great Lakes communities struggle to get access to clean, safe, affordable tap water in their homes.
Clean, safe, affordable drinking water is a basic human need. In our water-rich region – home to the largest source of surface freshwater on the planet – residents shouldn't have to question the quality of their tap water.
But across the Great Lakes region, people are facing unaffordable water rates, water shutoffs, crumbling water infrastructure, and health threats from lead pipes that bring water into their homes.
What is drinking water infrastructure?
Clean, safe tap water starts with the pipes that draw water out of a lake, a river, or from groundwater, and bring it to a water treatment plant. The plant treats that water and makes it safe enough for people to drink. Another system of pipes then takes the clean water from the treatment plant to people's homes and businesses.
The treatment plant and all the miles of pipes are our drinking water infrastructure.
Failing drinking water infrastructure
Our nation's drinking water infrastructure is woefully in need of repair. In 2021, the American Society of Civil Engineers gave our nation's drinking water system a "C minus" and said that much of our drinking water infrastructure is nearing the end of its useful life.
According to the U.S. Environmental Protection Agency, $188 billion over the next 20 years will be needed in improvements, upgrades, and repairs to the drinking and wastewater infrastructure in Minnesota, Wisconsin, Illinois, Indiana, Michigan, Ohio, Pennsylvania, and New York.
Disproportionate impacts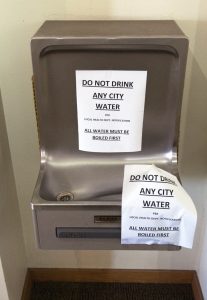 Water infrastructure projects are expensive. Communities around the Great Lakes region face significant costs to replace and upgrade aging water and sewer infrastructure while maintaining safety and environmental quality. These costs drive up prices for ratepayers. Yet the costs are often not shared equitably.
In urban communities, drinking and sewer costs are disproportionately borne by communities of color which have been redlined and disinvested for decades, leading to high income inequality. In turn, basic water and sewer costs make up a higher proportion of disposable income.
In rural communities, small water utilities cannot reach economies of scale in managing infrastructure, which results in higher cost. Lower-income residents end up paying a higher proportion of their income for basic water and sewer services.
Water affordability crisis
The Great Lakes region has some of the most unaffordable rates for tap water in the country. According to a research and reporting project by American Public Media, some Great Lakes communities have seen water bills triple over the last decade.
Rising water rates are an issue for both urban and rural communities. Our research in Ohio finds that affordability of basic water and sewer services impacts people across the state. In nearly 80% of Ohio communities, a month of basic water and sewer service requires more than eight hours of labor at minimum wage. In about 45% of Ohio communities, less wealthy households must pay more than 10% of disposable income for basic water and sewer service.
This causes an affordability crisis that puts people in debt and eventually leads to their water and sewer service being shut off. Programs that help people get assistance to pay their bills and get services reconnected are often difficult to access or nonexistent.
Lead service lines
Lead pipes pose a serious health concern for many Great Lakes residents. Lead poisoning from consuming contaminated water can cause irreversible brain damage in children that may take years to emerge. The Center for Disease Control and Prevention has determined there is no safe level of lead in children.
Illinois and Ohio are #1 and #2 in the nation for the number of lead service lines – the pipes that carry water into people's homes.
A win-win: investing in solutions
Investing in clean water infrastructure is a win-win, creating jobs and protecting public health. The longer we wait, the harder and more expensive these problems will be to solve.
The Alliance is working at the federal, state, and local levels to:
Conduct research on the water affordability crisis – and use that research to develop policy solutions
Advocate for federal, state and local policies to prevent residential water shutoffs, ensure affordable water rates, replace lead service lines, and rebuild aging water and sewer systems
End residential water shutoffs due to nonpayment, promote debt forgiveness programs and safely restore water to each household that lacks access
Co-convene the State Revolving Fund Advocates Forum, a diverse community working to ensure that once-in-a-generation federal water funds are allocated to the hardest-hit communities and advance resilience to climate change
Share resources and information with grassroots groups so that their voices are amplified and incorporated into water policy discussions