Blog
Global company invests big in Great Lakes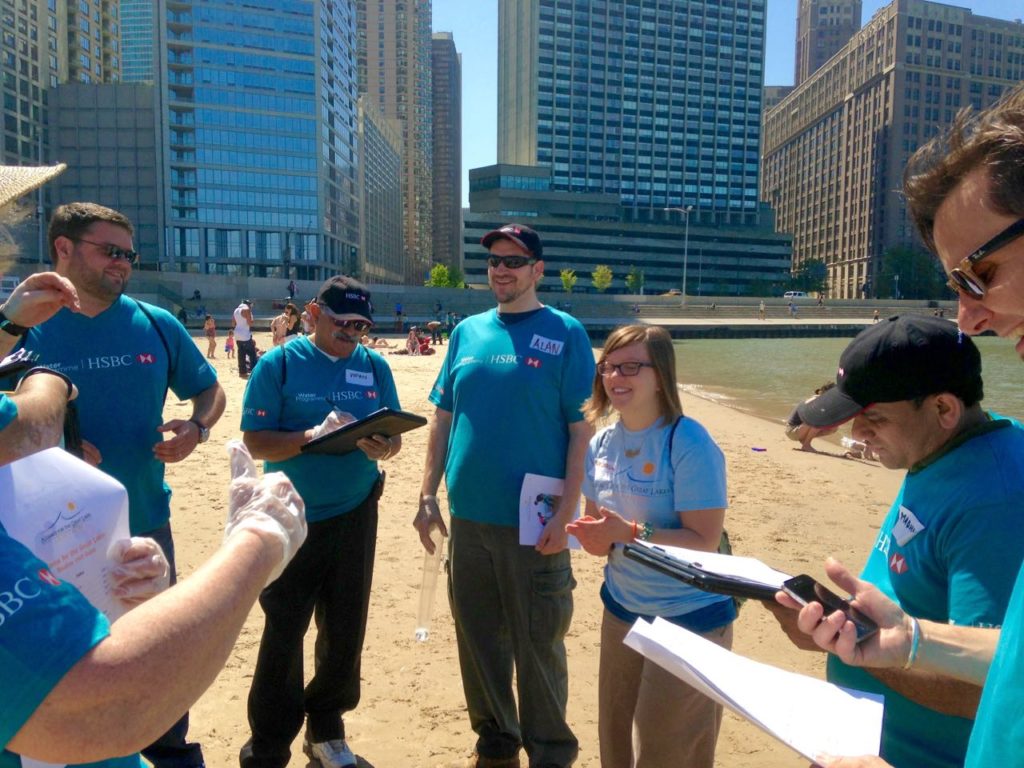 Not only are HSBC employees rolling up their sleeves and volunteering their time to clean Great Lakes beaches, they're becoming freshwater ambassadors in their hometowns.
And that's had a big impact on the Great Lakes.
HSBC employees support local Great Lakes projects
Lynn Habermehl and Steven Lauricella, coworkers in the global banking company's Depew office in Upstate New York, say the education they've received as Adopt-a-Beach™ team leaders has been life changing.
"When you read about areas that really don't have fresh water anymore, and that it's getting worse and worse, you start to realize it is an important issue," Habermehl says.
Since 2013, the Alliance has joined with over 500 HSBC employees to clean 57 Great Lakes beaches and remove more than 1,500 pounds of litter in Chicago and western New York. Some employees have painted picnic structures in western New York's lakefront parks, replaced invasive plants with native ones, and built recycling bins for spent fishing line.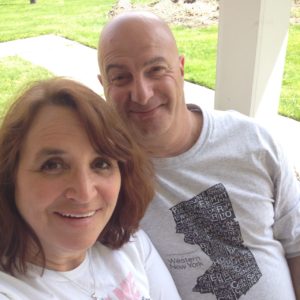 What started as an appealing way to include community service in their annual performance reviews at HSBC has turned into a passion for Habermehl and Lauricella — dubbed the "Depew Two."
"It kept our interest and we just kept going," says Lauricella, who travels with Habermehl to their favorite local beach on Lake Ontario every other month for a cleanup and water testing. "It's just encouraging."
Investing in the Great Lakes
Now in the final stretch of a five-year, $100 million Water Programme that saw $35 million allocated to charities managing local water projects in 35 countries, HSBC can point to any number of successful local "water stories."
"The Great Lakes are fortunate to have been part of that narrative," says Joel Brammeier, Alliance President and CEO. "HSBC has shown what is possible when a multinational company dedicates itself to a critical global issue, and understands that many solutions to water problems will emerge from local communities of people."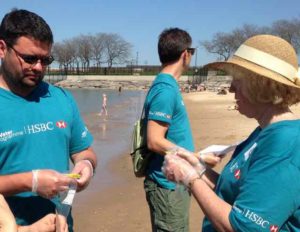 The Alliance's Great Lakes' work has received significant funding from HSBC, and Adopt-a-Beach™ has seen its volunteer ranks swell thanks to HSBC's firmly held belief that employees perform community service. To help make that happen in the Great Lakes, the Alliance joined with EarthWatch — one of HSBC's three principal Water Programme partners— in training 186 employees like Habermehl and Lauricella to become EarthWatch Citizen Science Leaders and Adopt-a-Beach™ leaders.
"HSBC is committed to making the local communities where we live and work more sustainable," says Kelly Fisher, head of corporate sustainability for HSBC USA. "Our employees have shown us they want to give back to the Great Lakes — a world-class resource that we're so fortunate to have in our own backyard — and the Alliance has been a great partner in making that happen."
For her part, Habermehl says she's learned a lot about the Great Lakes, water and the environment along the way.
"Environmentally, I guess I was always of the mindset that whatever is going to happen is going to happen long after I'm gone and I don't have to worry about it," she says.
"What this program really did for me was change that thinking," says Habermehl. "That it really is important to keep telling people about the environment and what they need to do to keep it clean, and thinking about what are my grandchildren going to have to swim in, and to drink when they become older."