Adopt-a-Beach volunteers launched the 2023 Adopt-a-Beach season with hundreds of cleanups on Great Lakes beaches, harbors, bluffs, and trails. By June 26, volunteers had removed more than 191,000 pieces of litter from shorelines around the region.
"It's so much fun to see the sense of community our volunteers create," said Olivia Reda, the Alliance's Volunteer Engagement Manager. "Everyone is working together to clean up their shoreline. Scouting groups, businesses, families, yacht clubs – it's exciting to see so many different types of people get involved."
And Adopt-a-Beach volunteers are working with a community that's larger than their local cleanup, said Reda. "They're working with volunteers all over the Great Lakes to collect important data about plastic pollution."
20 years of Great Lakes litter data
This year marks 20 years of data collection by Adopt-a- Beach volunteers. While scientists have been studying plastic pollution in the ocean for decades, there is much less research about plastic pollution in the Great Lakes. Adopt-a-Beach data collection is one way our Great Lakes community is beginning to fill that gap.
Volunteers use a datasheet at every cleanup to tally each item they pick up. The event's team leader tallies up all the data collected at the event and enters it into our online system.
"It might feel a little silly to count up every cigarette butt, bottle cap, or piece of tiny trash when you're on the beach," Reda said. "But the data from each cleanup tells a story. And when you put everyone's data together in one place, the power of all that information is amazing!"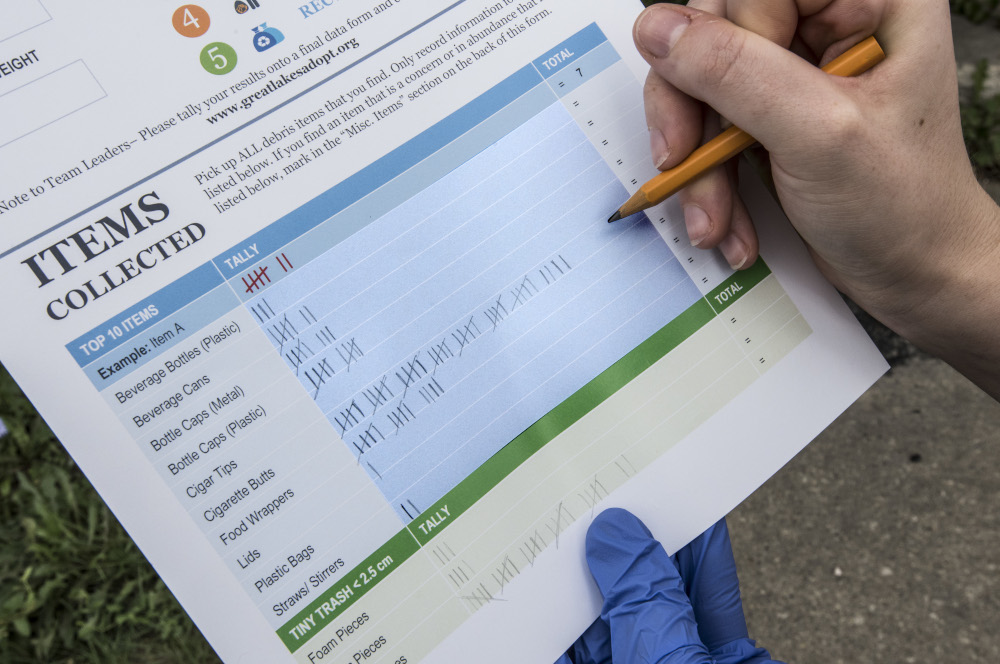 Spring data stories: Green Bay, Cleveland, Chicago
One of this spring's data stories comes from Green Bay, Wisconsin. A group of Adopt-a-Beach volunteers led by Green Bay Sail & Paddle removed 677 pounds of trash from the South Bay Marina in just a few hours.
"It's a bit unusual to collect so many pounds of trash at one cleanup," said Reda, "but spring is a time when the heavy stuff shows up in the data, the stuff that washed ashore over the winter." The litter this team collected included plastic, broken glass, rusted metal, and wooden planks. "This group really made their shoreline safer!"
Another spring data story comes from Cleveland, Ohio, where Adopt-a-Beach volunteers led by Drink Local, Drink Tap set an ambitious goal: remove 1 million pieces of trash from Lake Erie shorelines. The organization has already collected more than 500,000 pieces of litter from cleanups dating back to 2010. The vast majority of those items are plastic.
"Drink Local, Drink Tap is an amazing organization," said Reda. "Their dedication to their community and Edgewater Beach is so inspiring! And the fact that they see so much plastic reflects the trend we see around the region. Roughly 85% of the litter found at Adopt-a-Beach cleanups is entirely or partially made of plastic."
Because so much of the litter they collect is made from plastic, some Adopt-a-Beach volunteers are taking their cleanup efforts back to the source. In Chicago, Illinois, Organizing for Plastic Alternatives is working to reduce plastic use as the best way to keep plastic out the Great Lakes.
"Researchers say that more than 22 million pounds of plastic pollution end up in the Great Lakes each year. And the best way to keep plastic out of the lakes is to reduce how much plastic we use in the first place," Reda said. "It's so great that Adopt-a-Beach Team Leader and Alliance Ambassador Eileen Ryan – and the Organizing for Plastic Alternatives team – are raising awareness about problems associated with single-use plastic in their community!"
More stories to come
Every Adopt-a-Beach volunteer has a story to tell. And each of their stories adds up to an even bigger story told by 20 years of litter data.
"I really appreciate the volunteers who've returned for many years, and people who just joined this year. I'm so grateful for everything you've done for the Great Lakes!" said Reda. "I hope to see you on the beach again this year."
A special thanks to Bell's Brewery and Unilever, this year's top Adopt-a-Beach sponsors. Both companies are organizing shoreline cleanups throughout the region as well as providing financial support.