For our Diving Deep for Solutions series, we commissioned author and journalist Kari Lydersen to examine big issues facing the lakes today and how our expert team at the Alliance for the Great Lakes is growing to meet the moment.
---
In late April, teachers and students from Tremont Montessori descended on Edgewater Beach on Chicago's lakefront armed with colorful plastic rakes, sieves and shovels to pick up trash. It was one of many Alliance for the Great Lakes beach cleanups happening across the lakes that weekend.
Students beamed as they loaded plastic stir sticks, shredded balloons and other debris into orange buckets. One student paused to carve his name, Albert, into the sand.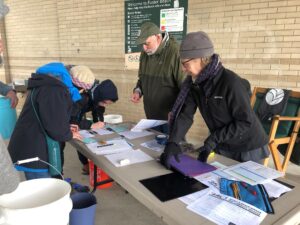 At nearby Foster Beach in Chicago, Eileen Ryan was leading a beach cleanup with the group she helps lead, Organizing for Plastic Alternatives. The multi-generational crowd hauled in pounds of plastics – water bottles, cups and plates – mostly single-use products, confirming Ryan's longstanding position that plastic consumption and pollution is "out of control."
Ryan's feelings mirror the Alliance's position: we must switch quickly away from reliance on plastics, so that youth like the Tremont students aren't burdened with increasing loads of toxic plastic pollution for decades to come.
Ryan – an artist – takes meditative walks along the Lake Michigan beaches, chronicling the experience in serene photos posted to social media. Now, she spends those walks picking up plastic and photographing this waste to make a point. At an advocacy-oriented "Trashion Revolution" runway show in May, she is exhibiting a dress made entirely from plastic lids collected on her walks.
"People need to see what a travesty plastic is," Ryan said. "Our unending consumption and waste from single-use plastic will be in our bodies, our water and our food for generations!"
Plastic pollution's harmful impacts
In all, more than half a million pounds of litter, most of it plastic, has been collected through Alliance cleanups over the past 20 years.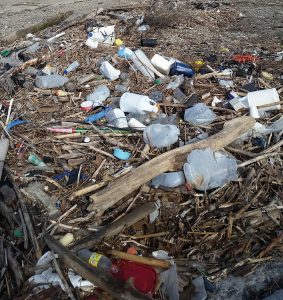 Not only are components of plastic toxic in their own right, the fragments also absorb and harbor potentially dangerous microbes and chemicals. In all, about 22 million pounds of plastic get into the Great Lakes each year, and the lakes provide drinking water for more than 40 million people.
The Alliance has long worked to remove plastic waste from the Great Lakes through beach cleanups, as well as pushing for laws and policies like the 2015 federal ban on plastic microbeads formerly used in facial scrubs and other toiletries.
Now, along with continuing this work, the Alliance is prioritizing fighting plastic pollution at the root – slashing the amount of plastic that is produced and used – the same model Ryan advocates.
Plastic poses a serious threat to the environment and public health when it enters the Great Lakes and other waterways, but an even greater environmental injustice is the impact of the petrochemical facilities that produce plastic on surrounding communities.
"The burden of drinking water with some microplastic is real, but the burden you're living with [near a petrochemical plant] is orders of magnitude different," said Andrea Densham, a sustainability expert working with the Alliance on plastics.
From Louisiana and Texas to Illinois and Michigan, petrochemical and plastics plants are predominantly located in low-income communities and communities of color. As the country slowly shifts away from fossil fuels for energy and transportation, plastic production is often described as a "lifeline" for the oil and gas industry. Plastics, along with fertilizers and various other industrial and household products, are made from petroleum-based feedstock. Plastics also typically contain toxic "forever chemicals" like PFAs, synthetic compounds found in many household goods and linked to harms including increased risk of cancer, developmental problems, and interference with hormonal processes. Scientists are especially concerned about PFAs since they are very slow to break down in the environment, and their full impacts on human health are not yet understood.
Factories manufacturing plastics emit highly toxic, cancer-causing emissions and pose serious safety risks. And nearby residents, who typically already bear disproportionate pollution burdens from other sources, often have trouble obtaining transparency and protection from the major industry players and government regulators.
Changing to sustainable alternatives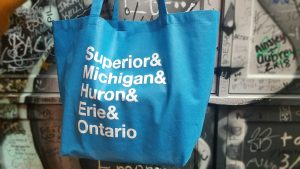 A huge portion of the plastic products and packaging we use everyday could be replaced by other materials or simply eliminated, experts note. Bans on single-use plastics like plastic grocery bags, foam container, and straws are one solution that multiple municipalities have implemented in various forms.
Illinois legislators are considering bills that would phase out single-use polystyrene foam containers beginning in January 2024. The state House has passed the bill, and Illinois already enacted a law banning single-use plastic food products in state parks and at the state fair. Canada has banned the manufacturing and import of multiple single-use plastic products including straws, cutlery, and ring carriers; and the government has set an ambitious goal of recycling 90% of beverage containers.
Plant-based materials can be used for many of the products currently made from plastic. And extensive reuse and recycling can reduce demand for new plastic. The emphasis should be on "organic items we can compost or reuse, and glass or things that we can truly recycle, for a more circular economy," said Densham.
It can be a win-win situation, as Great Lakes-region farmers and manufacturers can benefit by more demand for plant-based materials and reusable containers made out of glass or stainless steel.
"Just like we've made a commitment to move toward clean energy, we need to move toward cleaner manufacturing that uses more natural organic items like hemp and switchgrass," said Densham. "If we incentivize manufacturers to use less and less and less PFAs and other toxic chemicals, we don't have to clean it up on the other end," after it has polluted the Great Lakes.
Making manufacturers responsible for waste
The Alliance is working with the Ocean Conservancy to push policies based around Extended Producer Responsibility, the idea that manufacturers of products that become waste are responsible for it – rather than shifting the burden to municipal or county waste management agencies. The concept of Extended Producer Responsibility has been incorporated into policy in states including California, Colorado, Maine, and Oregon, and it is gaining traction nationwide.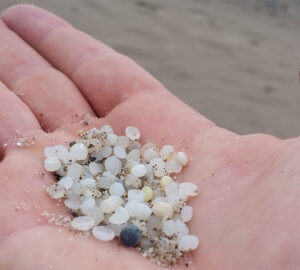 Demanding accountability from producers includes regulation of the dumping and release of "nurdles," the pellets that are used to make plastic. Loyola University biologist Timothy Hoellein recently encountered a trove of such nurdles around the North Branch of the Chicago River, down the watershed from several plastics manufacturers. Now he's seeking funding to study the distribution and source of nurdles in the region.
"They're like discs with little dimples, very uniform. When you see a bunch of them together, same shape and color, it's a little shocking," said Hoellein, who has partnered with the Alliance to analyze data from trash collected during the beach cleanups. "Plastic is not regulated as a pollutant in the same way other industrial discharges or wastes are, but it is a point source of pollution, and it seems like it should be controllable."
Focusing on the manufacturing of plastics rather than littering doesn't mean individual citizens are off the hook. Hoellein, Densham, and others emphasize that regular people have the power and responsibility to demand and make change around plastic pollution – starting at the root.
"We might not be the person throwing the plastic bag on the sidewalk, but we're all part of this consumer system that has a demand for plastic bags," said Hoellein. "We're all collectively accountable for the production because we're all purchasing the materials. There can be grassroots advocacy and collective demand for alternative products, a combination of policies that are put in place and creating a genuine market."