Great Lakes Plastic Pollution
Plastic pollution is a serious problem for the Great Lakes.
More than 22 million pounds of plastic pollution end up in the Great Lakes every year, according to the Rochester Institute of Technology. And plastic never really goes away. Instead, it just breaks down into smaller and smaller pieces known as "microplastics."
Researchers have found stunningly high amounts of tiny plastic pieces in all five Great Lakes, which provide drinking water for 40 million people. They've found microplastics in Great Lakes fish, drinking water, bottled water, and beer.
Plastic pollution poses a serious threat to the environment and could pose a threat to public health. It's estimated that we each ingest about a credit card-sized amount of plastic each week. The building blocks of plastic are toxic in their own right. And once in the water, plastic fragments absorb toxic chemicals and can harbor potentially dangerous microbes.
Communities where plastic is manufactured suffer significant harm. Factories that produce plastics use a host of dangerous chemicals, emit highly toxic, cancer-causing emissions, and pose serious safety risks.
The good news is that together we can make a real impact. Here are a few ways we're joining forces with tens of thousands of Great Lakers to stop plastic pollution at its source.
Together, we're making an impact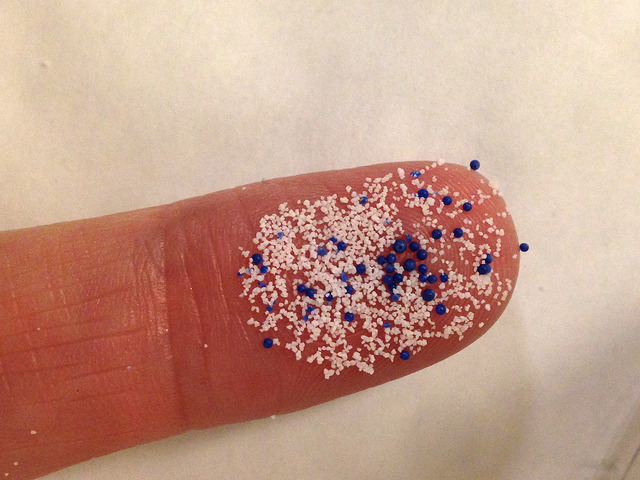 We're working with partners from across the Great Lakes and the country to support legislation that attacks plastic pollution on multiple fronts. A recent set of wins in Illinois will address plastic production and reduction, improve reuse systems, and provide better data to assist future policymaking. Solutions like increasing access to water refill stations are a win-win for residents and the Great Lakes – making it easier for people to reuse their own water bottles while decreasing our dependence on single-use plastic.
In another win, the Alliance for the Great Lakes, our partners, and tens of thousands of advocates across the region led the fight for legislation to phase out microbeads in personal care products. Microbeads are tiny plastic particles that were used as an abrasive in products like facial scrubs, soaps, and shampoos. Illinois was the first state to ban microbeads. As the movement spread across the nation, several other states followed suit. Eventually, this momentum led Congress to take legislative action, phasing out the manufacture and finally the sale of microbeads nationwide in July 2018.
Adopt-a-Beach volunteers have cleaned up millions of pieces of plastic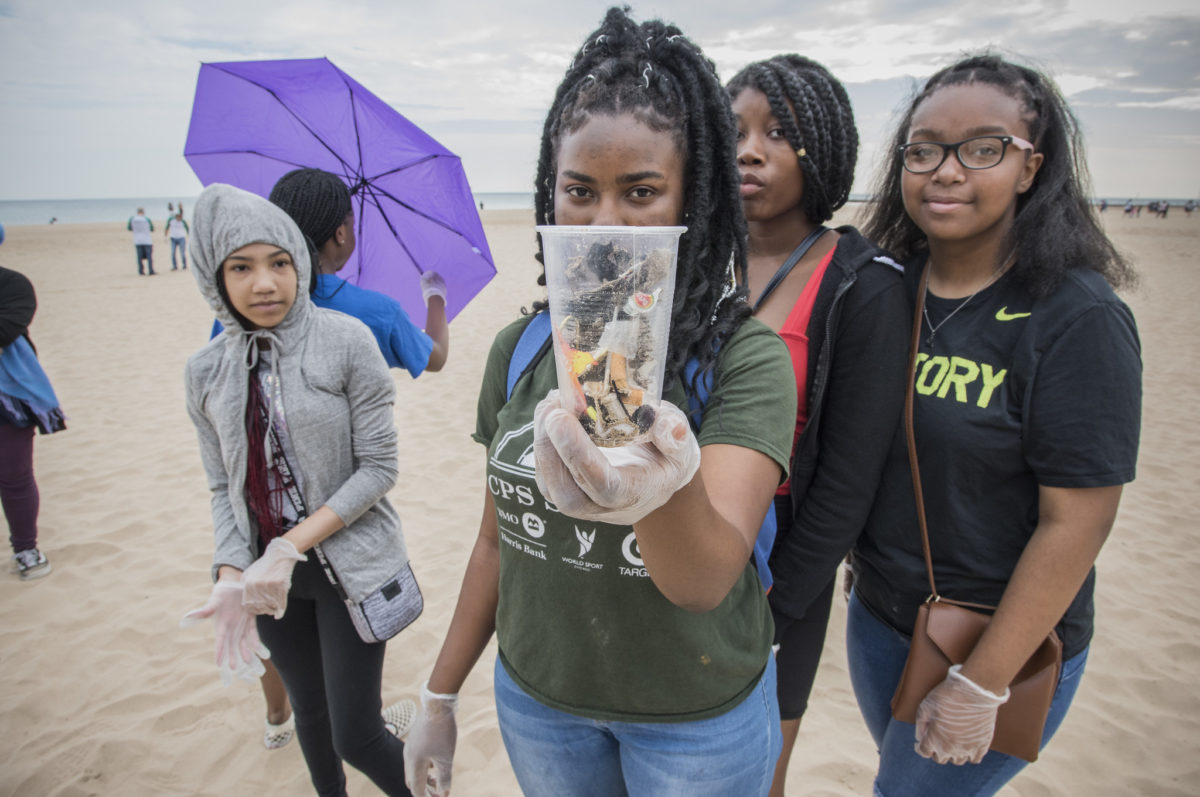 Volunteers with the Alliance's Adopt-a-Beach program are on the front lines of keeping plastic out of the Great Lakes. Each year, thousands of volunteers participate in hundreds of shoreline cleanups on all five Great Lakes.
Volunteers remove tens of thousands of pounds of trash each year. About 85% is plastic. They also collect data that helps scientists study the sources of plastic pollution and helps decision makers make the case for solutions. More than half a million pounds of litter, most of it plastic, has been collected over the past 20 years. That's more than 8 million pieces of litter!
Together, we're moving toward sustainable solutions
Adopt-a-Beach volunteers do a great job keeping plastic out of our lakes. But beach cleanups alone can't solve the magnitude of the Great Lakes' plastic problem. A more systemic solution is needed.
Currently, most efforts to stop plastic pollution – such as recycling – put the responsibility on the last person who uses the plastic. But expecting end users to bear the burden of managing plastic pollution isn't effective.
For instance, only a fraction of plastic produced each year can be recycled, leaving the remainder to end up in landfills or as litter that lands in our waterways. This leaves the disposal burden – and significant costs – on individuals, small business owners, and local governments.
A huge portion of the plastic products and packaging we use everyday could be replaced by other materials or simply eliminated.
We're working to get plastic producers to take responsibility
Ultimately, the most effective way to reduce plastic pollution is to reduce the production of single-use plastic and to hold producers responsible for the waste their products generate.
Smart and impactful policy will :
Reduce or eliminate the most problematic plastics, like single-use plastic (including styrofoam);
Encourage reuse and refill; and
Require plastic manufacturers to pay for production and disposal, or eventually change their practices to produce less plastic in the first place.
Many European countries have such laws, called extended producer responsibility. California has passed legislation bringing the concept to the United States. Colorado, Maine, and Oregon have passed elements of these smart policies, and extended producer responsibility is gaining traction nationwide. We are working to bring this innovative approach to the Great Lakes.
Ways you can help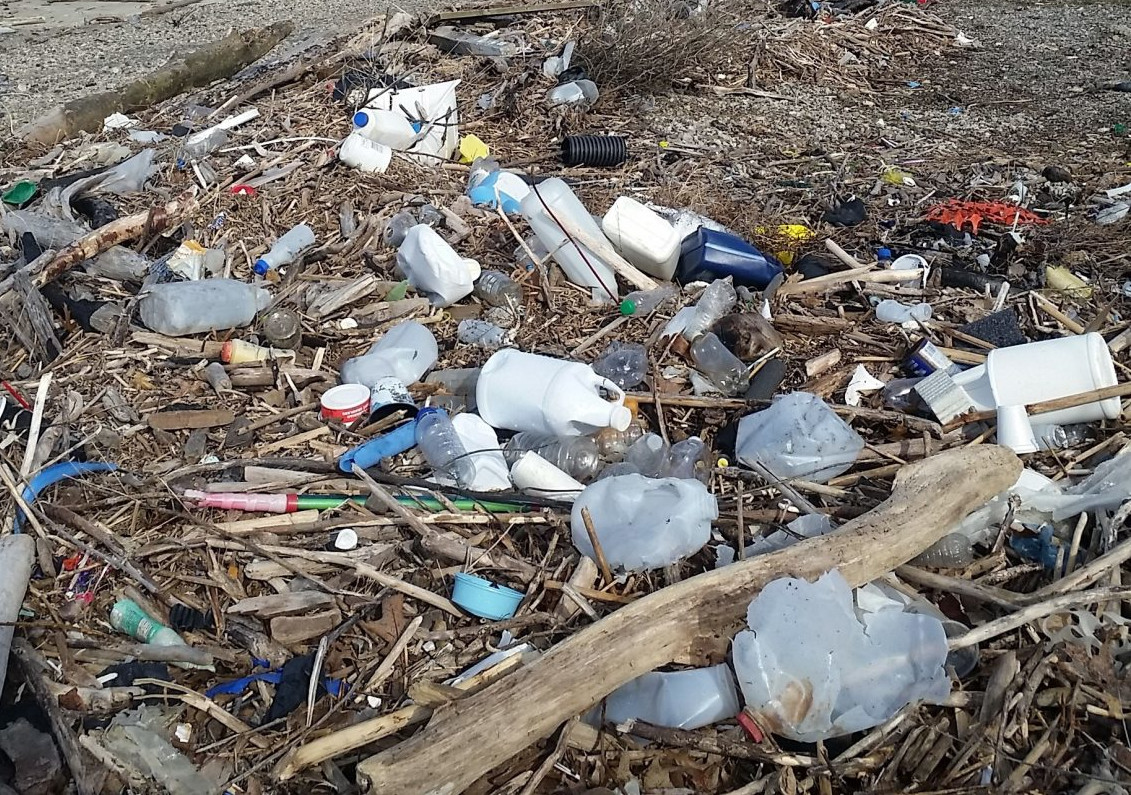 Solving our Great Lakes plastic pollution problem will take all of us. Here are several ways you can help.