For more than 25 years our Adopt-a-Beach volunteers have worked to keep Great Lakes shorelines healthy, safe, and beautiful.
Connect with people who love the Great Lakes as much as you
Adopt-a-Beach is about community, and we want you to be a part of it! Join us and thousands of Great Lakes lovers to keep our beaches beautiful. It's easy! All you have to do is:
Show up at the beach.
Clean up, make friends and have fun!
Want to do even more?
There are many ways to get involved in Adopt-a-Beach beyond being a volunteer. You can:
Questions?
Check out our volunteer FAQs!
Related Stories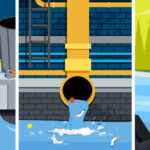 Adopt-a-Beach Team of the Week
Adopt-a-Beach Team of the Week
Adopt-a-Beach Team of the Week
Adopt-a-Beach Team of the Week
Adopt-a-Beach Team of the Week