Blog
Clean Water: "You have to work for it"
The summer passed without dire warnings about toxic algae in Lake Erie, or tainted drinking water in communities along its shores.
While this year's algae bloom was more toxic than Lake Erie's record-setting bloom in 2015, fortunately drier weather meant it was smaller.
But that doesn't mean people living there are breathing easy.
Hometown Hero
Alliance volunteer Erin Huber, in particular, is keeping the momentum going in her hometown of Cleveland.
In the wake of a toxic algae bloom that shut down neighboring Toledo's water supply in 2014, and this year's lead-tainted water crisis in Flint, Mich., she says people are more aware of the vulnerability of their water.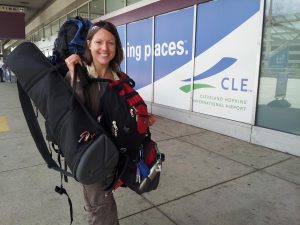 "The normal day-to-day person, they're not paying attention until the drinking water plant shuts down," says Huber. "But I don't want people thinking about water retroactively. It's got to be proactive. Clean water doesn't just come naturally into this world. You have to work for it."
And work she does. As founder and executive director of Drink Local. Drink Tap., Huber leads a team of about 100 volunteers with the Alliance's Adopt-a-Beach program. She seizes on beach cleanups as conversation starters about clean beaches and clean water.
Little Plastics, Big Problem
With tiny pieces of plastic now outpacing cigarette butts as the most common form of litter found on Great Lakes beaches, Huber says it's easy to steer the conversation to talk of bottled water. Water packaged in disposable plastic bottles for the first time is outstripping sales of bottled soft drinks, contributing to the growing presence of so-called microplastics in the water and underfoot on beaches.
"We care about that plastic out in the environment because that's what we're picking up on beaches," she says.
Huber encourages people to choose tap water over bottled water in her work with Drink Local. Drink Tap. That eventually opens the door to talk of clean drinking water and the water quality challenges facing Lake Erie, especially from algae-promoting farmland runoff.
On the Issues
"As far as Lake Erie goes, we have a lot of work to do and I don't think people really understand why the algal blooms are happening," she says. "We need to reach people where they're at. I start small so we can eventually talk to people about algal blooms, invasive species and combined sewer overflows."
Huber's work takes her outside the Great Lakes and out of the country — all the way to Uganda, where she also advocates for clean water. Working there has opened her eyes to bigger crises like water pollution and scarcity, and deepened her appreciation for the Great Lakes.
Place-based change
Although she could have set up shop in the arid West with its myriad water challenges, Huber opted to stay in the water-rich Great Lakes region.
"Here was the place I could make the most change, and it made sense to start Drink Local. Drink Tap.," she says.
Crystal M.C. Davis, Alliance policy director, says volunteers like Huber and her team are essential.
"Our local success depends on the support of active Cleveland residents and community partners who believe in protecting one of our greatest resources — Lake Erie," says Davis.