Press Release
Alliance hires Crystal M.C. Davis as policy director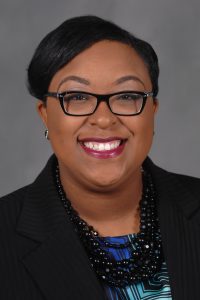 (Chicago, Ill.) May 18, 2016 – The Alliance for the Great Lakes is pleased to announce the hiring of Crystal M. C. Davis as the organization's Policy Director. Based in Cleveland, Crystal will lead the Alliance's policy and advocacy efforts related to Lake Erie and manage the Alliance's Ohio office.
Crystal spent eight years in government relations with Kent State University (KSU). Most recently, she served as the Federal Relations Director for KSU's Office of Government & Community Relations. Based in Washington, D.C., she established the university's office on Capitol Hill and was the liaison between KSU, members of Congress, their staffs, key executive agencies, the Administration, and national associations. Immediately prior to assuming that role, Crystal worked as KSU's Senior Legislative Officer for State Government Relations. Based in Columbus, Ohio, she was the university's chief strategist on all matters related to advocacy, public policy analysis, legislative involvement and management of relationships with elected officials. She has extensive experience in government and external affairs having also worked for the Ohio House of Representatives, the Ohio Legislative Black Caucus and the Ohio Department of Natural Resources.
Crystal is a graduate of Kent State University. Crystal will be based in Cleveland and will be working throughout northern and central Ohio.
"We are thrilled to bring Crystal on board in the lead on our commitment to create a clean Lake Erie that benefits everyone," said Alliance for the Great Lakes President and CEO Joel Brammeier. "Crystal's strong background in developing partnerships and proven track record brings critical experience to the Alliance's work in Ohio and beyond."
Ms. Davis can be reached at cdavis@greatlakes.org.
###
For more information contact, Jennifer Caddick at jcaddick@greatlakes.org or (312) 445-9760.
Download press release: Alliance hires Crystal M.C. Davis as policy director